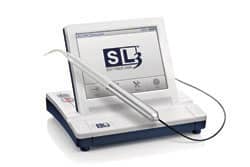 Discus Dental, Culver City, Calif, has introduced the SL3™ soft-tissue laser, a desktop diode laser.
The SL3 features disposable fiber tips, eliminating the need to stripand score fiber before each use. It also comes with a wirelessactivation foot pedal.
The SL3 includes voice confirmation, 3 watts of power in continuous andpulsed modes, and a full-color LCD touch screen interface with 18general dentistry and orthodontic preset procedures.
Discus also offers an eight-credit CE laser certification course.
For more information about this and other orthodontic companies, visit our Buyer's Guide.