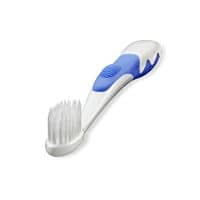 Mouthwatchers LLC, Boston, has introduced the Mouthwatchers Nano-Silver toothbrush. According to the company. the Nano-Silver is the first toothbrush that works synergistically with toothpaste to fight tooth and gum decay. Each Mouthwatchers brush has more than 2,000 individual bristles composed partly of nano-sized colloidal silver compound particles. This colloidal silver content has the same anti-bacterial effects in the mouth as in infection applications.
Each bristle of the Mouthwatchers brush is both immune to becoming a home to microorganisms and is also an antibacterial tooth and gum cleaning apparatus. Retailing for $4.99 each, Mouthwatchers Nano-Silver Anti-Bacterial toothbrushes can be purchased for $4.99 at mouthwatchers.net. Part of the proceeds go to benefit the Doug Flutie Jr Foundation for Autism.
For more information on this and other orthodontic companies, visit our Buyer's Guide.