with Megan Bowns, Hu-Friedy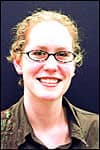 Megan Bowns is the market leader for Hu-Friedy's orthodontic product line.
OP: What is your most popular product and why?
Bowns: Our newest plier is the Hammerhead NiTi Tie Back Plier. The plier is used to intraorally bend nickel titanium (NiTi) wire with one squeeze without having to anneal the wire first.
OP: What features make your products last a long time?
Bowns: Our orthodontic instruments are made from Immunity Steel, a forged steel that contains a blend of chromium and carbon. These elements ensure that the instruments will be resistant to corrosion with proper use and care. By combining precision-machined components with the orbit-forming process, a smooth-working hinge is created. This process keeps instrument tips aligned and ensures proper functionality. With regular lubrication, the joints work smoothly for years.
OP: What is the best way to care for instruments?
Bowns: The best way to care for instruments is to remove cements and other bulk debris immediately after use, clean the instruments ultrasonically (using an enzymatic cleaning solution such as Enzymax), lubricate instruments at least once per week prior to sterilization, and use lubricants that are designed for precision-hinged instruments, such as Instrument Lubricant Spray. If a dry-heat sterilizer is used, a lubricant that is compatible with its operating techniques, such as High Heat Instrument Lubricant, should be used. To sterilize, a steam autoclave, chemical vapor, or dry-heat unit should be used. Hinged instruments should be cleaned and sterilized in the open position. Cutters should be sharpened regularly.
OP: What is Hu-Friedy's instrument warranty?
Bowns: Hu-Friedy's instruments carry a lifetime warranty against material defects and craftsmanship. We guarantee the cutters for 7 years and benders and utility pliers for 10 years. The warranty covers breakage, joint failure, and corrosion under normal use. Proper cleaning and maintenance is required. Failure to properly care for instruments, including cleaning and lubrication, may void the warranty. Hu-Friedy reserves the right to decide whether an instrument is to be repaired or replaced. Sharpening cutters and repairing minor tip damage is considered routine maintenance with normal use and is not covered by warranty.