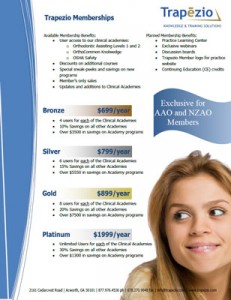 Trapezio, Acworth, Ga, is offering a new membership option, exclusively to American Association of Orthodontists (AAO) member doctors.
According to Trapezio, membership packages from the company are a cost-effective way to train team members within a practice. With four membership levels to choose from, there is an option available for teams of all sizes, the company says.
Membership packages include access to Trapezio's clinical academies, orthodontic assisting Levels 1 and 2, OrthoCommon Knowledge, and OSHA Safety. Memberships also include discounts on additional courses, member's-only sales, special sneak-peeks on new products, and cost savings on new courses.
Throughout 2014, Trapezio will also offer members access to online discussion boards and a practice learning center, as well as webinars and continuing education credits.
The company invites attendees of the AAO Annual Session in New Orleans to visit the Trapezio booth for a free demonstration of its eLearning system designed specifically for orthodontics. Attendees will see how the system can help improve a team's knowledge and fundamentals by viewing the company's Academy programs. Programs include the Academy of Treatment Coordinators, Academy of Financial Coordinators, Academy of QuickBooks Ortho, and the and Academy of Insurance Coordinators.