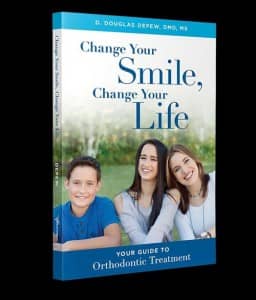 Orthodontist Douglas Depew, DMD, has released a new book for people interested in orthodontic treatment. In the book, titled Change Your Smile, Change Your Life: Your Guide to Orthodontic Treatment, Depew not only talks about the science of orthodontics, but also the artistry behind creating a beautiful smile. In addition, it offers insight into the cutting-edge technology available in the field and best practices to ensure a successful treatment experience.
"With so many different technologies today, and so many providers to choose from, it's important to find someone who will give you the level of care you deserve" says Depew, who has been in private practice in Kennesaw, Ga, since 1990. "My goal is to help clear the air and give you accurate information about orthodontics, some of the latest treatments available, and what you should look for when choosing a provider for you and your family.
"Orthodontics is the science of moving teeth into their proper positions and changing the shape of the jaws so the upper and lower rows of teeth fit together properly. But there is so much more to orthodontics than just moving teeth. Much of what doctors and staff do also affects the facial profile, the shape of the face, the fullness of the lips, the ability to speak and swallow properly, even the ability to breathe effectively."
The book explains to readers how training and experience make all the difference when choosing an orthodontist and the associated treatments for the patient's unique situation.
Depew runs Atlanta Orthodontic Arts, a practice focusing on TMJ, sleep disorders, and aesthetic treatments and is also the founder and Academic Director of Trapezio, an online platform which provides formal training for orthodontic staff members. He is an active member of the American Association of Orthodontists, the Southern Association of Orthodontists, the Georgia Association of Orthodontists, the American Lingual Orthodontic Association, the Spear Dental Study Club, and the Elite Lingual Orthodontic Society.
Change Your Smile, Change Your Life: Your Guide to Orthodontic Treatment is available on Amazon and other online retailers.