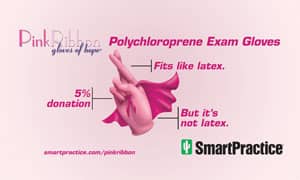 SmartPractice, Phoenix, has added Pink Ribbon Gloves of Hope Polychloroprene Exam Gloves to its Pink Ribbon Health Care Products Line. The company donates 5% of the profits from the sale of all Pink Ribbon Gloves and other Pink Ribbon Health Care Products to fund breast cancer research and awareness programs.
To date, the company has made donations totaling more than $150,000.
The gloves are latex, containing no natural rubber latex proteins that can irritate sensitized patients. The gloves feature textured fingertips, which provide a better grip in wet or dry conditions.
The Pink Ribbon Health Care Products Line also includes Pink Ribbon Prophy Angles, Bags, and Whitening Kits.
For more information about this and other orthodontic companies, visit our Market Guide.