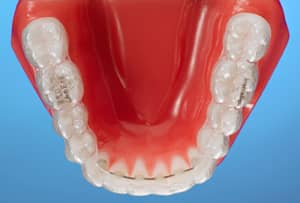 Vivera retainers from Align Technology Inc, Santa Clara, Calif, now accommodate the concurrent use of bonded lingual wires and pontics. Vivera retainers come ready-to-use after being made according to the orthodontist's specifications. Vivera retainers feature support for lingual wires, retention for top and bottom arches, and full arch/molar-to-molar retention.
Vivera is a clear thermoplastic retainer designed for use after completing orthodontic treatment. Because the retainers can be made from a PVS impression, both Invisalign system patients and any other orthodontic patient can use Vivera retainers.

Two options are available:

• A retainer to fit over a bonded lingual wire (covers lingual wire); and
• a retainer with a cut-out for a bonded lingual wire.
The retainers' support for pontics provides an interim aesthetic solution for the masking of dental spaces while providing orthodontic retention of the entire arch. This preserves spaces and prevents the collapse of neighboring teeth. It also provides an aesthetic solution for the masking of dental spaces after the placement of implants.