Bruce G. Freund, DDS, operates a full-service dental practice in Bergen County, NJ. But in his case, full service means a bit more than the usual fillings, extractions, root canals, and crowns. He also provides facial cosmetic procedures with injections of wrinkle-reducing muscle relaxers such as Botox and dermal fillers, including Restylane and JuvÉderm. Freund believes that one day cosmetic dentistry and facial aesthetics will no longer be seen as distinct practices.
OP: How does a dentist come to do facial cosmetics?
Freund: I began about 5 years ago at the request of my patients. At first, most people don't understand how a dentist does this type of work. But the light goes on when you explain to them that no one knows more about your face than a dentist, who's looking at it all the time. The proportions of your eyes to your nose, to your mouth, to your lips and teeth—who knows better than your dentist?
OP: What about plastic surgeons?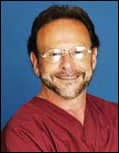 Bruce G. Freund, DDS
Freund: Of course, plastic surgeons are experts at facial proportions. But in general, they don't like to work with injectables. They like to cut, do surgery. Sure, there are some who inject, but most prefer not to. It happens that I inject for a plastic surgeon every week in his office.
OP: How did you become the injector for a plastic surgeon?
Freund: We worked together helping to restore a battered woman's physical well-being, and when he saw my passion for, and experience in, facial aesthetics, he asked me to use my skills on his patients.
OP: Aren't cosmetic facial injections usually handled by dermatologists?
Freund: Sure, but a dermatologist is a skin doctor who works with the entire body. Unless they specialize in removing moles, malignancies, and so on from the face, what do they know about facial relationships? They've grabbed onto this boom in facial fillers and are having a party with it. Of course, they don't like the fact that dentists are injecting and providing competition. These cosmetic procedures aren't covered by insurance, so there's a lot of money in it.
OP: Most people think this type of work has to be performed by an MD. How did you get your training to do facial injectables?
Freund: In dental school I spent many hours studying and dissecting the face. We have to know the anatomy of every blood vessel, every nerve and muscle, because we inject the facial area for anesthetic purposes every day, all day long. You can't do root canals, fillings, crowns, periodontal surgery, etc, without profound anesthesia. A dentist is a doctor of the face. There's no one better with a needle in the facial area than a dentist. A dentist has to have artistic skills to work in very small areas.
OP: Did you have further specialized training?
Freund: Yes, I participated in a training group for various medical professionals interested in doing this type of work. While there, I realized that the dentists in the group were the best injectors. So I suggested a training group specifically for dentists, and this led to my becoming a founding member and co-president of the American Academy of Facial Cosmetics, which is geared toward educating and training health care professionals in facial injection procedures. I'm also a training instructor for Allergan, the maker of Botox and JuvÉderm. Representatives from their company had observed me in my office: If you become known as a good injector, it gets back to the company, and they asked me to train others for them.
OP: Are there rules and regulations about dentists doing this type of work?
Freund: Each state has its own rules; some don't have any. Some, like New York, are indeterminate, can go either way. Here in New Jersey, where we have a very strong state dental board, the use of fillers in dentistry is officially approved, and I've been accredited for 21 hours of applicable CE credits.
OP: What are some of the typical procedures you perform?
Freund: I use Botox mostly for lines in the forehead by injecting the frontalis muscle. It's also used for lines around the eyes and for frown lines. As people age, they tend to wear their teeth down and get the look of a frown. The Botox will pop up the corners of the mouth. It's also good for "smoker's" lines, which run perpendicular to the lip. In addition, I've used it to correct gummy smiles by injecting the levator labii muscles on each side of the nose. That procedure requires only two units of Botox.
OP: What other injectables do you use?
Freund: The hyaluronic acid fillers, Restylane and JuvÉderm, are very popular, especially for the lips. Also, Radiesse, which is a calcium-based, longer-lasting product that's good for larger areas such as cheek and chin enhancement, and the newer Evolence, which is collagen-based and good for immediate results.
OP: What advice do you have for orthodontists who may be thinking of going the same route?
Freund: It's really very simple. To start, they need to take a course in injectables, and I would recommend the American Academy of Facial Cosmetics in New Jersey. It's a 2-day, 21-hour course that's approved by the New Jersey State Board of Dentistry. It's a hands-on course that includes injecting live models, as well as the didactic background of Botox and all the fillers, and education in patient relations, including subliminal communications.
OP: What do you mean by "subliminal communications?"
Freund: We teach the doctors how to communicate confidence to their patients, so they'll feel reassured and look forward to the outcome of their treatments. The course covers everything the orthodontist needs to know, teaching all the necessary techniques to get started.
---
Bruce G. Freund, DDS, graduated from NYU College of Dentistry in 1975, and has focused his private practice on cosmetic restorations. In the last 5 years he added cosmetic facial injectables to his practice. He is currently a training instructor for Allergan, the manufacturer of Botox and JuvÉderm. He is also co-president of the American Academy of Facial Cosmetics.