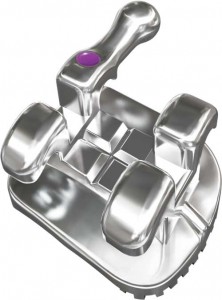 Ortho Technology Inc, Tampa, Fla, now offers the Pinnacle™ Stainless Steel Bracket System, a twin-wing bracket. The Pinnacle Bracket System uses a one-piece manufacturing process, providing a bracket with high strength and better base-to-bracket head alignment.
According to the company, Metal Injection Molding (MIM) allows for more intricate contours and structures, resulting in reduced friction, better patient comfort, and improved visual placement marks. Pinnacle has a high-shine surface, the result of a specialized finishing process.
The Pinnacle Bracket System builds on the original Marquis™ Stainless Steel Bracket design and features a micro-etched base with angled pylons for increased surface area, allowing for better retention and bond strength.