The ADA recognized a long-time executive director and the nation's top oral health official with its Distinguished Service Award.
The American Dental Association (ADA) awarded Rear Admiral Timothy L. Ricks, DMD, and ADA executive director Kathleen T. O'Loughlin, DMD, with the ADA Distinguished Service Award, the highest honor given by the ADA board of trustees.
O'Loughlin, who is retiring after 12 years, became the first female executive director of the ADA in 2009, following a career as a clinician, educator, industry executive, and advocate in the field of dentistry.
In her role as ADA executive director, O'Loughlin strengthened the finances of the association, cultivated the relationship between the Board of Trustees and the House of Delegates, and improved communication between state dental associations. In her tenure, the Chicago Tribune named the ADA as a top workplace based on employee surveys in 2019.
After 20 years of owning a private practice, O'Loughlin received her Master of Public Health degree in health care administration and management in 1998. She then served as the CEO of Delta Dental of Massachusetts from 2001 to 2008 and as chief dental officer for United Health Group from 2008 to 2009.
"I am honored to receive a 2021 ADA Distinguished Service Award—it was a wonderful surprise," said O'Loughlin. "I am grateful to have worked with an amazing team at the ADA, and together, we have shaped our association into one that is committed to serving our members and moving our profession forward. I am lucky to have experienced something that makes saying goodbye so hard."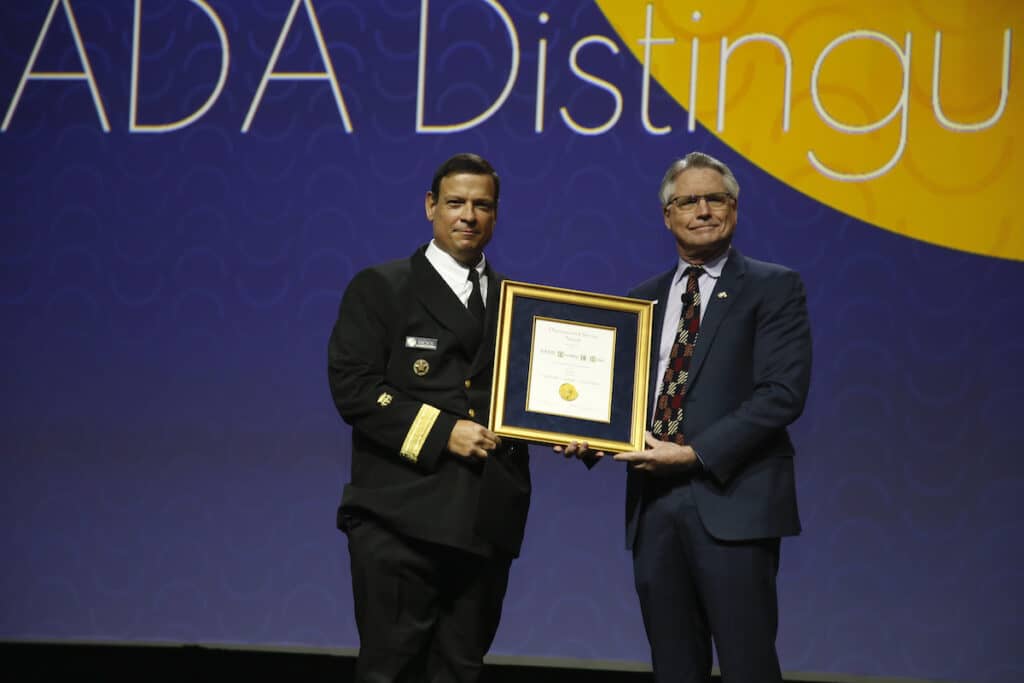 With 20 years of public health service, Ricks is considered the nation's top oral health official, serving as the chief dental officer for the U.S. Public Health Service (USPHS). He also serves as the deputy director of the Indian Health Service (IHS) Division of Oral Health.
During the COVID-19 pandemic, Ricks supported dentists and patients by helping to convene public-private partnership meetings to allow for exchange of information and collaborative thoughts around infection control and other pandemic-related recommendations. The group continues to meet and now includes 50 dental organizations and representatives from 11 federal agencies.
Ricks' career in dentistry began after serving as a military police officer in the Army National Guard. After earning a dental degree and working in private practice as a dentist, he transitioned to public health.
Ricks serves in the ADA House of Delegates and is a board-certified diplomate of the American Board of Dental Public Health, a fellow of the International College of Dentists and the American College of Dentists, and a Santa Fe Group Scholar.
"Dr Ricks is a dentist who exemplifies service, leadership, and dedication. That's why the ADA is recognizing him with this year's Distinguished Service Award," said Daniel J. Klemmedson, DDS, MD, ADA president. "His many accomplishments in public health, oral health promotion and continuing education have made an indelible impact on our profession. He is well-deserving of this distinction."