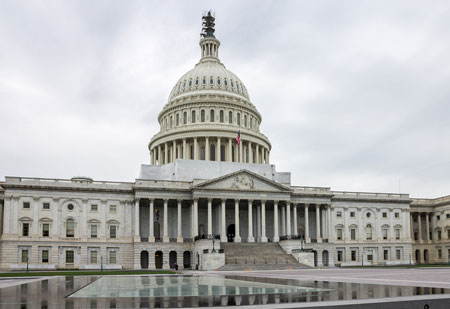 The American Dental Association (ADA) recently released its inaugural "Action for Dental Health: Report to Congress," which recognizes the 1-year anniversary of the launch of the Action for Dental Health (ADH) movement and the grassroots efforts taking place across the country to eliminate barriers to dental health.
The report was released during the ADA's annual Washington Leadership Conference, where more than 500 dentists from across the country meet with their Congressional delegations to discuss policy issues to improve our nation's dental health.
"Millions of Americans continue to face barriers to dental care, which is why the ADA launched Action for Dental Health," said Charles Norman, DDS, president of the ADA. "While we have accomplished much in the first year, there is still much to do. This Report to Congress serves as a continued call to action for elected officials, health policy organizations, community leaders, and the dental community to come together to bridge the dental divide."
While much attention has been paid to the political debate around the Affordable Care Act, the ADA contends that important health issues such as access to dental care have been sidelined. According to data from the ADA, US Census, and Centers for Disease Control and Prevention, this year alone, more than 181 million Americans won't visit a dentist, even though nearly half of people over 30 suffer from some form of gum disease and nearly one in four children under the age of 5 already have cavities. Nationally, more than 2.1 million people showed up in emergency departments with dental pain in 2010 – that's double the number just a decade prior, according to the National Hospital Ambulatory Medical Care Survey.
In response to this, the ADA created Action for Dental Health, a nationwide, community-based movement to address barriers to dental health by solving today's problems through direct help and creating sustainable solutions that provide the best quality of care. After just 1 year, ADA reports that Action for Dental Health has taken root in every state across the United States.
The report outlines four key strategies and the corresponding programs that are contributing to the success of the movement:
Providing care now. This includes hospital emergency department referral programs to connect people with severe dental pain to dentists who can provide needed treatment and expanding programs like Give Kids a Smile, which currently provides dental services to approximately 400,000 underserved children at more than 1,500 events.
Strengthening and expanding the public/private safety net by fighting for increased dental health protections under Medicaid and helping more dentists work with community health centers and clinics.
Bringing disease prevention and education into communities through Community Dental Health Coordinators (CDHCs), who provide dental health education and help people in underserved areas connect to community health resources and dentists for needed treatment.
Working to pass legislation at the federal and state levels that support Action for Dental Health initiatives. The Action for Dental Health Act (HR 4395) would provide grants to support programs such as expanding care for the elderly in nursing homes, encouraging dentists to contract with Federally Qualified Health Centers, increasing health protections and simplifying administration under Medicaid, expanding community water fluoridation, increasing the number of Community Dental Health Coordinators, and strengthening collaborations with other health professionals and organizations.
"We are confident that the momentum generated in the first year of Action for Dental Health will continue to grow and spark additional creative solutions. As doctors of oral health, dentists want to help alleviate suffering from untreated dental disease as well as help people learn how to prevent dental disease before it takes root," Norman said.
The ADA has set bold goals for Action for Dental Health. These include:
Creating ER interception programs to reduce the burden on our nation's emergency departments and improving dental health in 25 states by 2015, and 50 states and the District of Columbia by 2020.
Training at least 1,000 dentists to provide care in nursing homes, one of the most underserved populations, by 2020, and increase the number of dentists serving on advisory boards or as dental directors of long-term care facilities.
Expanding programs which provide screening and treatment to help people in need connect with dentists for continuity of care, and work to eliminate cavities in children under 5 in the United States by 2020.
Improving the existing safety net and helping people connect with community resources and dentists who can provide care by increasing the number of states with active Community Dental Health Coordinators to 15 states by 2015.  Currently there are CDHCs in eight states.
Reducing the proportion of both adults and children under 18 with untreated dental decay by 15% by 2020, exceeding the 10% Healthy People 2020 goal by 50%.
Increasing the proportion of low income children who received any preventive dental services during the past year by 15% by 2020, exceeding the 10% Healthy People 2020 goal by 50%.
To review detailed goals for Action for Dental Health, or to download the "Action for Dental Health: Report to Congress" visit ADA.org/action.