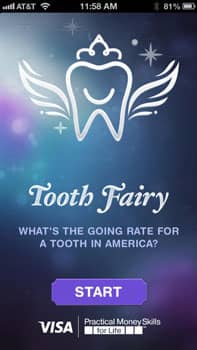 Tooth Fairy spending is skyrocketing and shows no signs of slowing down. Visa Inc's annual survey shows that American children are receiving an average of $3.70 per lost tooth this year, an increase of 23% more than the $3.00 per tooth left in 2012 and up 42% from the $2.60 left in 2011. Based on this rate of return, a child would net $74 for a full set of 20 baby teeth.
Additional findings from the survey of 3,000 telephone interviews conducted nationally include:
The Tooth Fairy was particularly generous to kids in the Northeast, leaving an average of $4.10 per tooth. Kids in the West and South trailed with an average of $3.70 and $3.60, respectively. Midwestern children found the least under their pillows with an average of $3.30 per tooth.
10% of kids will find more than $5 per tooth under their pillow—more than three times as many as in 2011.
36% of respondents reported that the Tooth Fairy left a dollar or less.
On the opposite end of the spectrum, 6% said that the Tooth Fairy left $20 or more, including 2% who reported that an extremely generous Tooth Fairy gave $50.
Nationwide the Tooth Fairy left the most in households with young parents. The 18-to-24 age group reported that she left an average of almost $5 per tooth.
The Tooth Fairy will be visiting close to 90% of US households with children—up from 84% last year.
To help parents navigate the sensitive topic of the appropriate amount their children should receive for lost teeth, Visa has launched a free Tooth Fairy app and Facebook calculator.
"The Tooth Fairy is throwing money around like pixie dust," said Nat Sillin, Visa's head of US Financial Education. "While more money is exciting news for children, parents should take this opportunity to talk saving and smart money habits with their kids and have the same talk with a perhaps overgenerous Tooth Fairy."
The free app and calculator uses Visa's 2013 survey data and factors in demographics such as gender, age, home state, family size, marital status, income, and education levels to formulate how much money the Tooth Fairy is leaving in comparable households. It is not an endorsement or recommendation for a particular amount. The app is available for iPhones and iPads at the iTunes Store, and the calculator is available at: https://www.facebook.com/ToothFairyCalculator.
The calculator is part of Visa's free, financial education program, Practical Money Skills for Life. Launched in 1995, the program is now available in 10 languages in more than 30 countries. At Practical Money Skills for Life, educators, parents, and students can access free educational resources, including personal finance articles, games, lesson plans, and more.