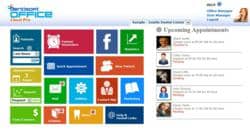 Dentisoft Technologies, Chevy Chase, Md, now offers an upgraded version of Dentisoft Office Cloud, its web-based dental practice management system. The upgrade includes the use of "Live Tiles" which give orthodontic and dental office staff quick views into their schedule, patients, and messaging from the home page.
The new version also features integration with social network sites. Through a bi-directional interface with Facebook and DentistDirectory.com, orthodontic practices can capture new patient leads directly into the practice management system, as well as keep existing patients more connected.
For more information about this and other orthodontic companies, visit our Buyer's Guide.