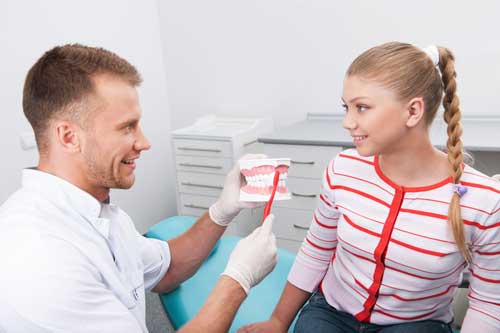 By Roger P. Levin, DDS
The progress and outcome of orthodontic treatment depend heavily on patient compliance and cooperation. If patients miss appointments or do not take proper care of their teeth and gums at home, the negative consequences can be significant for both the practice and the patients. Motivating ortho patients to protect their oral health is made more challenging by the fact that the majority of them are adolescents.
To maintain high levels of compliance, focus efforts in three areas:
Home Care Education: The entire practice team should be trained to communicate frequently and consistently with young patients about how to care for their teeth, gums, and orthodontic appliances at home. Scripting will help ortho assistants and others stress the benefits of proper home care—not only the bright, beautiful smile treatment will create, but also the shorter office visits patients will experience. Age-appropriate graphics showing great results, motivational posters, and printed educational materials should all be used to teach and reinforce good oral health care. The practice can also encourage proper care by offering power brushes and water flossers that make it easier—and more fun—for children to practice good hygiene.
The Value of Keeping Appointments: When a treatment plan is first presented, the practice should communicate to patients and their parents that showing up on time for every appointment will mean shorter visits, easier adjustments, and completion of treatment on schedule.
Motivational Techniques: While purely rational discussions are unlikely to persuade most adolescents, young patients will respond to motivation that appeals to their sense of fun. Games, contests, online clubs, events, and other activities that "sugarcoat" the serious motivational messages are highly effective.
Developing systems that encourage compliance on the part of young orthodontic patients will ultimately achieve better clinical results and increase patient and parent satisfaction… and reward the practice with better patient flow and more referrals.
More than 55,000 dental professionals start their day, Monday through Friday, with a Levin Group Practice Management Tip of the Day. To have this free email advice delivered to you and your team members daily, sign up at http://levingroup.com/tipoftheday.