How does a young orthodontic practice find a way to stand out from the competition? The best bet: Take what you love and make that the centerpiece of all you do. For the husband and wife orthodontic team of Matt and Megan Lineberger, both DDS, MS, that is a love of community, kids, and sports.
The daughter of an orthodontic assistant, Megan grew up in the orthodontic world. Still, she opted for general dentistry at the start of her career. "I thought I wanted to have my hands in every aspect of dentistry. I loved the idea of being able to do a little bit of everything," she says. But being able to do a little bit of everything turned out to be her least favorite part of being a general dentist.
"It was hard for me to feel like I was the best at everything. I'm such a perfectionist. So for me, trying to take continuing education on everything from endo to prosthodontics was just overwhelming," she says.
[sidebar float="right" width="200″]
Practice Profile: Lineberger Orthodontics
Locations: Huntersville, NC, (main) ?and Elizabeth, NC (second office opening September 2016)
Number of chairs: 5
Staff members: 13
Years in practice: Matt: 5; Megan: 3
Education: Undergrad: Megan—?Purdue University; Matt—University of North Carolina. Dental and orthodontics: University of Michigan.
Average number of patients ?per day: 65
Days worked per month: Each work 12
Top 5 products used: Invisalign and iTero from Align Technology Inc; Damon and Insigna from Ormco Corp; and the Carriere Distalizer from Henry Schein Orthodontics. [/sidebar]
Thus, a year and a half into her dental career, she knew she needed a specialty to feel she was doing her best work. At the time, Matt was in his residency at the University of Michigan, Ann Arbor. Megan recalls how he would come home at night and they'd talk about the cases he was working on during the day. "I'd see what he was doing and think that's awesome," she says. With that spark, Megan applied to orthodontic residency programs.
For Matt, orthodontics wasn't the dream. Like many young boys, the NBA was—even if deep down he knew it was a pipe dream. And when he only grew to be 6-foot-2-inches and didn't develop the speed required at the professional level, reality set in. Still, he went on to play a year of college basketball at Wake Forest University before transferring to the University of North Carolina to finish college. Casting about for a Plan B, Matt looked at medical school, taking his inspiration from his father who was an anesthesiologist. But after a summer job working for a family friend who was an orthodontist, Matt saw a career option that appealed to his personality. "I liked the idea of changing lives. That really drew me in—and basically being able to make [a practice] your own baby, with your own vibe and culture. That to me was a lot of fun."
The original plan had been to move to North Carolina, where Matt was born, when he finished his residency, and enjoy a few child-free years living in the city of Charlotte. Instead, during Matt's final year of residency, Megan returned to school, starting her own residency in the same program as Matt. And then while Megan completed her final 2 years, Matt worked as an associate at Ann Arbor-based Brust Orthodontics, led by Eric W. Brust, DDS. So in total, the couple, who met in dental school also at Michigan, signed up for another 2 years in Ann Arbor with Megan's residency—oh, and a baby.
"We found out she was pregnant the second week of her residency," Matt recalls.
"Life is what happens when you're making other plans—isn't that what they say?" Megan adds with a laugh. Today the couple has three children under 5.

Landing in Charlotte
While their initial career plans didn't work out exactly as planned, the move to Charlotte did—eventually. While Megan was completing her residency, Matt received an email out of nowhere from the owners of a commercial building that was still under construction in the Charlotte suburb of Huntersville, NC. They were looking for orthodontic residents across the country that might want to come to Huntersville to open a practice in the building, which would also house a general dentist, pediatric dentist, and pediatric medical practice. "These people had Googled orthodontic residency programs and Michigan just happened to be the first one that came up," says Matt. Given Huntersville's proximity to their dream location of Charlotte, the couple jumped at the opportunity to open their own practice.
When Lineberger Orthodontics opened in 2013, the location offered a steady stream of potential patients walking through the doors, which helped the practice get off the ground. And their presence in the building continues to offer easy recognition in the community. "[The location] has helped get our name out in the community because people are able to see our sign in the building," Megan says. But the couple hasn't relied on this to get their name out in a competitive orthodontic market.
With another orthodontist a half mile down the street and another two within two miles, the Linebergers were used to being one of two or three consults a prospective patient sought out before starting treatment. So the goal became to find something that set them apart from the competition. Initially, the approach was somewhat traditional—an ad in the local magazine and lunches with local dentists, for example. But it was the couple's community outreach efforts that really allowed them to get their name out there while doing what they love: giving back.

Connecting to the Community
The Linebergers started by reaching out to local business owners to put together creative charity tie-ins that would help bring name recognition to the practice and benefit local community organizations. In one instance, they teamed up with a local juice bar, creating their own juice—proceeds of which went to a local after school program. Soon, however, they decided to go a bit bigger when it came to working with local businesses.
Today, Lineberger Orthodontics is the official orthodontist of the NBA's Charlotte Hornets basketball team and the Charlotte Checkers, the local professional minor-league ice hockey team. According to Matt, these relationships grew out of connections to people who knew people who knew people. But they were also due in large part to the practice's burgeoning reputation for its philanthropy work in the community.
The Checkers hockey team is a natural fit for an orthodontic practice. "We kind of call ourselves the 'official smile protectors' because it's hockey and they always get their teeth knocked out," Matt jokes. The arrangement isn't so much about treating the team's players, as it is about being there to sponsor events associated with the team. Minor-league teams, Matt says, tend to focus less on the celebrity of their players and more on building connections with the community. This results in fun events that the Linebergers can get involved with—for example, "Smile of the Game" sponsored by Lineberger Orthodontics.
But while these relationships are straightforward sponsorship or advertising opportunities with local businesses, the practice's connection to the Carolina Panthers professional football team is about personal relationships with those who want to give back to the community. While not officially connected to the team, the Linebergers got to know many of the players who they happened to treat, and out of this saw an opportunity. It started with an introduction to Panthers player Kawann Short through another player who was a Lineberger patient. The Linebergers had an idea for a charity program called "Stats for Smiles"—the idea being that every time one of the participating players made a big play, Lineberger Orthodontics would treat a child for free through Smiles Change Lives, a nonprofit organization that matches children in need of orthodontic treatment with orthodontists who offer pro bono care. The idea grew out of the work the Linebergers saw Denver-based orthodontist Anil J. Idiculla, DMD, doing with the Denver Broncos. Short, who has also made giving back a priority in his career, was on board. "He thought it was really cool to be part of it," Matt says. "I think that's the key—to find the right players who really want to be part of something like that."
When the Linebergers teamed up with Short, he'd had three sacks the previous season. Based on those stats, the couple figured they'd be treating just a few pro bono cases through the program. But once Short and the Linebergers teamed up, Short went on to have his best season ever, becoming a Pro Bowler with 13 sacks in the season.
"We have a lot more pro bono in the budget this year than we thought we would," Matt says with a laugh. "But it's all good."
In 2015, the practice instituted the Stats for Smiles program with the Charlotte Hornets meaning even more local kids will benefit from orthodontic care they otherwise couldn't afford.
[sidebar float="right" width="300″]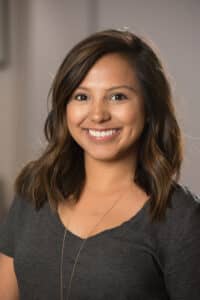 The Do Good Coordinator
Basketball tournaments, community dental clinics, can food drives, not to mention patient-geared events like a recent Independence Day themed deband party or scan parties where prospective patients interested in Invisalign treatment can come for a free scan while enjoying food and drinks—you're probably wondering how Lineberger Orthodontics pulls it all off. While the husband-and-wife team of orthodontists Matt and Megan Lineberger can definitely juggle a lot, including a thriving and growing orthodontic practice and three children under age 5, they can't do it all. That's where Astrid Jimenez comes in.
Jimenez was hired in October 2014 to work the practice's front desk, but little by little she found herself volunteering to organize the practice's different community events, everything from those can food drives to a hygiene backpack drive for Emily's Pack of Hope—a charity that collects hygiene supplies for children transitioning from one foster home to another. Her knack for event planning and her commitment to the practice's efforts led to her recent promotion to serve as the practice's dedicated community outreach and philanthropy coordinator.
"Her job has just morphed into so much more because she has a passion for it," Megan says. "She's a go-getter and just stepped up to the plate. Matt and I can't do it all ourselves. We just realized that we either have to cut back on some of these events we're doing or hire [a dedicated staff person]. So it was the perfect transition. [Jimenez's new role] opens up a lot more opportunities for us."
The practice aims to always have something going on, whether it's big or small. And according to Jimenez, the goal is to do one major event quarterly with the community—the Gus Macker 3-on-3 Basketball Tournament benefiting Young Elites, a local leadership program for high school girls, is this quarter's main event. Jimenez has taken the lead on organizing the tournament, which has involved meetings not only with local businesses, but also the local chamber of commerce and mayor.
As Jimenez sees it, her job is to think outside the box to help raise the practice's profile in the community while also doing good—and all while entertaining the patients. "I treat this practice like it is mine and try to bring ideas to the table that you don't usually see," she says. "Overall, it's creating a fun environment for our patients and doing fun stuff for them, but also doing things that will benefit our community and us as a practice. That is my main goal: Putting the practice out there and letting people know that you have given to us [by being patients] and we want to give back to you."
And putting the practice out there, while doing good, is, as Jimenez sees it, as good as any positive online patient review. "In our community, there are about four or five orthodontists, but you don't really hear about them doing a basketball tournament or hosting a hygiene backpack drive to benefit foster children. I feel that what drives people to businesses is when they see that businesses are taking part in [giving back to the community] like this.
"In our community," Jimenez says, "people will look for businesses that are helping the community and go to them." OP [/sidebar]
The practice's relationship with the Panthers' players doesn't end there. The Linebergers worked to bring the Panthers together with Team Smile, a Kansas City-based nonprofit organization that provides dental clinics for underserved children. Team Smile, a turn-key charity that primarily works with professional sports teams throughout the nation, brings all the necessary equipment, while local organizers, in this case the Linebergers, bring in volunteer dentists and others, to provide preventative and restorative work. The first year the Linebergers worked with Team Smile they didn't have the backing of the Panthers and relied on community support to hold the event. But once the Panthers came on board, the event grew, with the last event taking place at the Panthers stadium and featuring players and cheerleaders to entertain the kids receiving treatment.
The Linebergers are thrilled with the success, even if they spend most of the time on the sidelines. "We're basically x-ray techs that day," Matt jokes. The important thing is kids in the community are receiving care.
Common Themes
To say there are common themes that run through the Linebergers' community outreach and philanthropy work would be an understatement. "The two big themes are kids and sports," Megan says. "I think in the community in general we're trying to do good things for it and give back. But I think one of the things we're finding is that our passion is toward kids. And yes, both of us grew up really involved in sports. It's in our blood. But I think it's not just sports, but an active healthy lifestyle. We're always signing up our team to go to workout classes together. We participate in a lot of 5K and 10K charity events."
That commitment to sports and kids is clearly evident in their next big undertaking. Lineberger Orthodontics is currently organizing the first Gus Macker 3-on-3 Basketball Tournament in Huntersville. Gus Macker tournaments take place throughout the country, bringing together players of different ages and skill levels. In fact, Matt grew up playing in Gus Macker tournaments. Not only is the event an opportunity for amateur basketball players to come together for some friendly competition, it's also an opportunity to raise money for a cause. The organizing committee for each tournament designates and donates the proceeds raised to a local charity.
All proceeds from the Lineberger Orthodontics Gus Macker tournament will go to Young Elites, a North Carolina-based leadership program for high school-aged girls. The Linebergers' commitment to Young Elites extends to taking part in the organization's leadership summits, where they recently spoke on mentorship.
The Linebergers credit Idiculla, for inspiring their approach to community outreach. "He has the whole philanthropy model down," Matt says. "We started emulating him on that. Once you start thinking outside the box, and outside of teeth, you can come up with some really interesting combos." Case in point: the Gus Macker basketball tournament. One doesn't usually think basketball tournament when one thinks about an orthodontic practice.
"It's cool to be so much more than just orthodontists in the community," Megan says. "Orthodontics is an amazing platform for us to connect with these businesses—and I don't think most orthodontists take advantage of that. Here we are, totally a part of the community."
And that community is growing. Come September, Lineberger Orthodontics will open its first satellite location in Elizabeth, NC—another suburb of Charlotte. And there's little doubt that Lineberger Orthodontics will extend its community involvement and philanthropy efforts to this new town. OP