by Justin W, Sanders
Menachem Roth, DMD, MMSc, moves fast in life and at the track
Photos by Stanley Rowin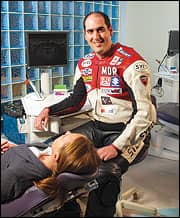 In Europe, where motorcycle racing is a popular, even revered form of competition, one of the most famous sports figures is the dashing Valentino Rossi. A multiple World Champion in the MotoGP class of the illustrious Grand Prix division of motorcycle racing, Rossi is flashy and bold. The superstar has even been known to exhibit a graphic of his nickname on his gear, spelled out in brightly colored, blocky lettering. The origins of the moniker are up for debate, but many believe it is the cold, calculating way in which Rossi dismantles his opponents that has earned him the nickname "The Doctor."
In Brookline, Mass, where motorcycle racing is an obscure form of competition practiced by a small but enthusiastic group of devotees, one sports figure is a man by the name of Menachem Roth, DMD, MMSc. A loyal hobbyist looking to participate at the fun and rewarding club level of motorcycle racing, Roth is humble and kind. The family man has been known to exhibit a graphic of his nickname across the back of his racing jacket, spelled out in brightly colored, blocky lettering in the style of Valentino Rossi. The origins of the moniker are clear, and everyone who knows Roth knows it is his day job as a skilled dental practitioner that has earned him the nickname "The Orthodontist."
Starting the Engine
PRACTICE PROFILE
Practice Name: Carvalho and Roth Orthodontics
Orthodontists: Menachem Roth, DMD, MMSc, and
Roberto S. Carvalho, DMD, PhD
Location: Newton Centre, Northborough and Marlborough, Mass
Specialty: Orthodontics
Years in practice: 5
Office square footage: 1,200 and 1,800, respectively
Patients per day: 60
Starts per year: 500
Days worked per week: 4 per doctor
Education: University of Pennsylvania (DMD)
and Harvard University Orthodontics (Masters of Science in Oral Biology)
Web site: bracesonline.com
"My friends made the jacket as a joke," Roth says of his Rossi-emulating piece of gear, "so I ended up having my bike painted with the same theme and it was put in Roadracing World, and everywhere I go people recognize the bike. People come up to me at the track and talk to me about their kids' orthodontic treatment. It's become a joke in the local motorcycle world."
While Roth's "Orthodontist" label garners friendly laughter at the track, in his other life he is a dedicated and consummate professional. Growing up in Toronto, Canada, Roth knew from an early age he wanted to be a health practitioner. While an undergrad in New York, he decided dentistry suited him best because he liked to work with his hands. Once the decision was made he pursued his new career at the highest level, earning his Doctor of Dental Medicine from the University of Pennsylvania and his Orthodontic certificate and a Master of Medical Science in oral biology from Harvard.
Roth has been interested in motorcycles and "anything with wheels, really" for at least as long as he has been interested in medicine, but it wasn't until he had finished dental school and moved to Massachusetts in 2003 that he got his first motorcycle license. At first, he simply rode his motorcycle around town, but the novelty soon wore off and he found himself wanting to "push the limits a bit more." By 2005 he had found his way to the nearby New Hampshire Motor Speedway, which offers a special day for private groups of all skill levels to come in and use the track.
Roth says that, in orthodontics and in racing, "You're looking ahead and trying to get to the end point as quickly and efficiently as possible, with the best results possible."
"There's an introductory session where they show you around," Roth chuckles, remembering his first day at the Speedway, "but then it's basically like, 'have a nice day.' I was totally lost. I have pictures from the first day, and everyone just laughs when they see them. I'm straight up and down."
Roth would eventually learn to lean and crouch, to ease his bike into turns, using his core muscles to keep himself light in the seat and to maintain maximum control. But first he had to pay his dues. His early forays into racing were challenging on multiple levels. "This did not come easy for me at all," he says. "It's a high-intensity, high-testosterone environment, and I was not prepared for that at the beginning. It's a hobby where there's no instruction. When you get out there that first day, you could be rubbing elbows with a local or national race champ. There are guys buzzing past you. There's a huge discrepancy in skill level."
In addition to being inexperienced, Roth quickly realized he was an anomaly at the track. Though only in his late twenties when he began riding, most racers his age or older had already been doing it for years, sometimes decades. He was, and remains, virtually alone in terms of his background. Though he would, over time, meet a few other health care professionals who race, Roth has yet to meet another dental specialist. And, he adds, "I'm Jewish. My name gives it away very well. In the Jewish world it's even less common [than it is for health practitioners] to be in the motorcycle world."
And yet, despite being perhaps America's only Jewish orthodontist motorcycle racer, Roth stuck with it and was happy to discover that while his fellow riders could be gruff, they were hardly elitist. In the end, "People were fairly welcoming. It's a very helpful community of people because everyone's ready and willing to give you a hand with your bike."
Speeding Up
"From there it was like skiing," Roth says of his escalating racing passion following that first day at the track. "If you're an avid skier, you want to try it all over the place. I got interested in visiting as many tracks as I could and improving my skills."
Roth would go on to add four bikes to his motorcycle collection, including his prized Ducati, the model he races on. He traveled as far as Ohio to test out new speedways, and now devotes at least 15 cumulative days out of each year, plus travel time, to racing on seven or eight different tracks. In 2012, Roth hopes to be ready to compete in club races, a level of competition that raises the stakes slightly by offering a little prize money.
It is a measure of Roth's passion for motorcycle racing that he juggles this extensive time commitment with a bustling orthodontic practice and three children at home. So far, his career has advanced as quickly as his wheels have spun around the track. After completing his orthodontic training in 2006, Roth worked as an associate for less than
3 years before setting his sights on owning his own practice. He had barely passed the age of 30 when he purchased his own Boston-area practice with his business partner, Roberto S. Carvalho, DMD, PhD. These days, Carvalho & Roth Orthodontics sees around 60 patients a day across three locations in the Boston area.
"Being an associate is great, but I felt ready to make more decisions on my own," Roth says of his speedy career arc. "When you're an owner, you're able to have a vision and carry it through. One thing they don't focus on in dental school is business training, and then you come out and have to run a business. That part of it was very exciting for me."
Roth took to his new role as a businessman with the same drive and focus he brings to racing. He immediately embarked on a drastic administrative overhaul, converting the office's computer network from a PC-based system to a Macintosh-based program. The process "was a massive undertaking," according to Roth. "We gave the technology that runs our practice a total facelift, but that helped us improve our intraoffice and interoffice communication, our communication with patients and with referring dentists."
Consumer usage of Apple computers and other electronic devices has risen precipitously in recent years, and Roth felt their implementation would give his office greater connectivity to the outside world. He also wanted to switch the clinic's management program to topsOrtho, a comprehensive software package that runs everything from clinical notes to patient records to imaging. Add in the office's usage of Invisalign, ceramic braces, and other cutting-edge technological developments, and patients can generally expect a swift, smooth treatment experience that doesn't skimp on quality.
"We're always looking for more efficient ways to do things for the patient," Roth says, "to make the experience better, to provide better customer service, and to improve the quality of the end result. There's nobody looking over your shoulder in dentistry but you. There's nobody challenging you to be better unless you're challenging yourself. And it's very easy to be OK with the status quo, but if you have that mentality you can be left behind."
The Home Stretch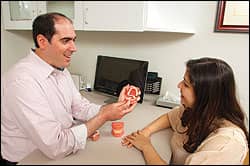 Though he may go for speed on the track, Roth takes his time with his patients.
It is surely more than coincidence that Roth's summation of his approach to orthodontics uses terminology equally applicable to the motorcycle track. At the speedway, he can compete against other riders, but ultimately, as with any race-oriented sport, Roth competes against himself. Only he can hug the curves tighter, only he can push the tires' traction to greater and greater limits, increasing his speed one fraction of a second at a time.
But for Roth, the connections between racing and orthodontics run deeper than a shared value of self-improvement. "When you look at a racetrack," he says, "you're looking at a diagram of a physical space, just like when you're looking at the mouth. You're looking at a blueprint and trying to figure out how to navigate that as efficiently as you can. If you make a mistake somewhere, overcommit somewhere, you'll have a problem at the end. Mistakes tend to catch up with you. An orthodontic treatment plan is the same way. You're looking to be efficient, to make it the fastest, best experience possible for the patient. You don't want to be going back and correcting mistakes. [In racing and in orthodontics] you're looking ahead and trying to get to the end point as quickly and efficiently as possible, with the best results possible."
Roth calls racing a "mind game," and claims that this side of it pulls him toward the hobby as much as the speed aspect, if not more so. While he clearly relishes moving fast, Roth swears he is not attracted to reckless or dangerous things, and seems saddened that the general public tends to view motorcycle racing as "all the things you don't want to tell your mother about. But the sport aspect of it is very different from the recreational aspect," he says. "It's such a different world, you wouldn't even think they both involve a similar machine. At the track, [racing is] a sport. There are people who train for it, have their pregame ritual, and are really focused on health and their bodies.
"What people who think it's dangerous on the racetrack don't understand is that it's a very controlled environment, even though we are pushing the limits. The safety precautions they take there are tremendous, the equipment is incredible. I've been there 60 days over the last 5 years and have seen minimal injuries take place. Safety is taken very seriously."
While Roth's own network of peers and family are supportive of his hobby ("My wife is very supportive and completely uninterested," he laughs), he has yet to make it a strong presence in his professional life, largely because of the sport's reputation. Understandably, he wants newcomers to his still-developing practice to "know me as a professional first. [Motorcycle racing] is not really the type of thing that everyone approves of."
Still, Roth's staff delights in hearing tales from his adventures at various speedways, as do some of the patients (especially the kids), and when asked if he would ever consider bringing memorabilia from the racing world into the office, he replies, "I would love to add some stuff of myself on the walls. I haven't gotten there yet."
By "stuff," Roth, of course, means photos from the track: maybe a shot or two of his Ducati, him standing alongside it, geared up and ready to ride. Simple, tasteful touches, though it's also fun to imagine something much more in-depth. Something like a full-on speedway-themed orthodontic practice replete with memorabilia, posters, checkered flags, and, of course, the words "The Orthodontist" spelled in big, colorful letters above the entryway.
---
Justin W. Sanders is a contributing writer for Orthodontic Products. For more information, contact