By Roger P. Levin, DDS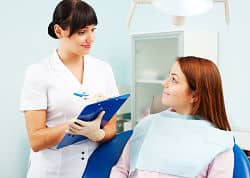 One of the best ways to strengthen relationships with referring GPs is to return the favor—refer their patients back to them for hygiene. The ortho practice should play an active role in assuring that this important care is provided. There are several reasons for doing this, including:
• Patient Benefits
Ortho patients often need special attention from a hygienist because of the added home care challenges posed by orthodontic appliances. This is especially true for teenagers. Seeing patients regularly, members of the ortho team can easily determine when there is a hygiene problem that could be detrimental to patients' oral health.
When a problem is detected, staff should alert both patients and parents, inform the referring practice that one of their patients needs hygiene care (perhaps even schedule the appointment for the patient), and also follow up to ensure that the necessary care has been provided.
• Improved Customer Experience for Parents
Parents of patients will be impressed by the caring partnership between ortho and general practices and gain confidence that their child is in excellent hands. In the new, tougher dental economy, patient referrals have taken on much greater importance. Ortho-to-GP hygiene referrals will increase the likelihood of parents referring new patients to both practices.
• Stronger Relationships Between Practices
Given a choice between an ortho practice that refers patients back for hygiene and one that does not, most GPs will refer to the former. This is especially true when the ortho practice contacts the general practice directly about the patient's need for hygiene care. The more communication there is between the practices, the better.
Think of referrals as a two-way street with GPs. Send their patients back for routine or special hygiene appointments, and they will become top referrers.
To learn how to run a more profitable, efficient and satisfying practice, visit the Levin Group Resource Center at

www.levingroup.com/ortho

. You can also connect with Levin Group on

Facebook

and Twitter (

@Levin_Group

) to learn strategies and share ideas.