By Roger P. Levin, DDS
Every parent-practice interaction should follow a script. Levin Group has found that training the orthodontic team to use powerful scripting is the most profitable way to run a practice. And no interaction needs scripting more than the first call to the office.
The front desk coordinator should work from a script, greeting parents enthusiastically and giving them a brief orientation regarding the office. This team member should also "talk up" the orthodontist by emphasizing the doctor's experience, good relationships with patients, and ability to put patients' best interests at heart.
Three objectives for the first phone call are the following:
1) Create the foundation for an effective relationship The front desk coordinator should learn as much as possible about the patient, including the parents' and patient's names, address, daytime phone number, e-mail, the parent's cell phone number, and any special circumstances. By documenting this information in the patient's file right from the start, the practice doesn't have to ask parents to provide it again during their child's first appointment.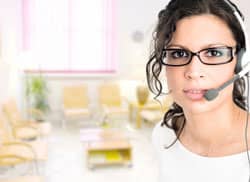 2) Refer to collected information during the first visit. It is good customer service when team members can access this documented information and use the patient's and parent's names upon arrival. For example when you say, "Good morning, Ms. Jones, Dr Brown is looking forward to seeing Emily today," a relationship has begun, not just a business arrangement.
3) Use caller information to track referrals The front desk coordinator should ask the parent during the call if anyone has referred him or her to the practice. If so, document the person's name and keep it in the referring patient's file so that it can be referenced later. When the initial call has been handled correctly, it builds parents' confidence and convinces them that you will provide superior customer service and care for their child. In an era of orthodontic shopping, this is essential.