Online reputation management in today's orthodontic marketplace
By Mary Kay Miller
Typical scenario: Mom took her kids for dental cleanings today and was informed her oldest child needs braces. This was not unexpected, but the news is not coming at a good time. The family just bought a new car to replace the clunker, further reducing disposable monthly income. Mom wants the best for her son, but worries about how they are going to juggle the budget with three kids.
Her son wants to go to his best friend's orthodontist, but that office is a considerable drive and the friend's mother has mentioned concern about the cost. One of mom's co-workers with a child in treatment swears her orthodontist is the most reasonable in the area. Meanwhile, the dentist recommended another orthodontist closer to home. While cost is a factor, when it comes to her kids' dental health, mom wants to make sure she is getting her best return on investment. It is also important to be able to juggle appointments with their busy lives and two working parents.
Mom has a list of questions and is hoping to find most of the answers online. She heard most orthodontic evaluations are free, but taking time off from work is a problem. Making the rounds to multiple orthodontists is something she prefers to avoid.
Dinner is done…kids are doing homework…and she has a few minutes to research options based on her checklist, which includes: location, credentials, scheduling hours, free exam, and will they accept her husband's dental insurance?
Google to the Rescue!
Mom Googles the orthodontists recommended by her general dentist and co-worker, starting with Orthodontist A.
Orthodontist A has a nice website that is easy to navigate with convenient buttons on the homepage to answer most questions quickly on her list: meet the doctor, complimentary exam, maps and directions, and easy financing. The site also has a Why Choose Us button, offering additional information mom hadn't considered.
Orthodontist A also had a 4.9 rating on Google with eight reviews; a 5-star rating on Yelp with three reviews; a 5-star rating on Healthgrades with two reviews, and oops…a one-star rating on Yellow Pages by someone complaining about difficulty scheduling convenient appointments. That could be a problem!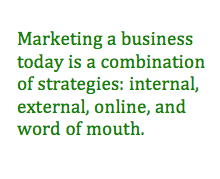 She skipped the Facebook page, but watched a YouTube video testimonial at the bottom of the page. The office is modern and up-to-date, and the location is convenient. Mom found everything she needed about Orthodontist A in less than 10 minutes and was impressed.
Off to a good start, mom next Googles Orthodontist B.
Orthodontist B proves more difficult to research, which is frustrating. In the search results, mom first finds the "Meet the Doctor" page, which turns out to be disorganized with long-winded paragraphs. Wanting to start at the beginning of the website, she can't find the "Home" button, not knowing she must click on the logo. After some hunting, she was able to find a small link for "Home" at the bottom of the website, but is feeling more frustrated and losing interest.
The website's navigation is not intuitive for her needs and overall seems outdated, unlike Orthodontist A. As far as mom can see, Orthodontist B doesn't offer a free exam, and whether he accepts insurance is still unknown. Hours are 9 to 5, which may be an issue. Orthodontist A had early morning hours and also evening hours, with an occasional Saturday. Orthodontist B has no reviews or videos to offer a better overview of the practice. Mom isn't getting warm vibes and is "over it" in less than 5 minutes. His fees may be reasonable, but mom was unimpressed by what she found online.
Moving on, mom Googles her son's choice, Orthodontist C.
Orthodontist C has a modern website like Orthodontist A, but mom again can't easily find all the information she is looking for. The homepage lists Invisalign, Damon, Incognito braces, and buttons for "Refer a Friend" and "Write a Review." There is also a button for a patient contest. The site promotes products rather than services, and it takes mom longer to find answers. Mom is unable to find the office hours, but she did find out that they accept most insurances and offer a free exam. They have a very large staff and a beautiful modern facility.
No rating on Google (which will not show any stars or review scores for a business until they have five Google reviews); there is a 5-star rating on Healthgrades with 42 reviews…mom assumes they are solicited by the practice, which reduces credibility. She clicks into the Facebook page and finds it is very active with many likes. It looks like a kid-friendly office similar to Orthodontist A, but after seeing the size of the staff and the office tour, she understands why the practice has a reputation for being expensive.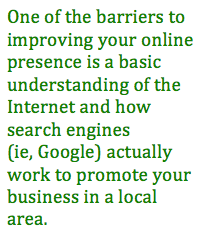 To make sure she has researched all her options, mom looks for other orthodontists in the area with a local search. Orthodontist A is listed in the Google Maps area, along with a pedodontist offering orthodontic services; and Orthodontist D, who mom doesn't recognize, is an option based on hours and location found on the website. She is new to the area.
Mom doesn't have time to visit each office and decides to narrow the list. Based on her research, who would you choose? How would your digital footprint stack up among competitors in local search under the same circumstances?
Making Sure You Make the Cut
Marketing a business today is a combination of strategies: internal, external, online, and word of mouth. Most orthodontic practices have a website, and many promote with social media, but beyond that, the hands-on involvement in the reputation and information management of their online image can be sparse.
One of the barriers to improving your online presence is a basic understanding of the Internet and how search engines (ie, Google) actually work to promote your business in a local area. The marketing strategies for a local business are different from what is required for those reaching a nationwide target audience. Also, the Internet marketing strategies for the healthcare profession are different from those for restaurants, hotels, etc. What works in one niche area does not always cross over to another to attract new business. The Internet is imperfect by nature and a wide-open free-for-all where anyone and everyone can share information, sell products and services, and offer opinions, regardless of their validity or credibility.
There are multiple factors to consider in the management of your online reputation. Several factors also blend into your internal and external marketing efforts and are necessary for a well-rounded business-marketing program. They include:
A well-designed website as the hub. It requires updating of information and strategizing ways to drive visitors to your website.
SEO (search engine optimization) to increase or maintain visibility in local search on Google, Bing, and Yahoo! to attract new patients.
Online Reviews—influence what is being said about you to both promote and protect your reputation.
Social Media—while not as important as the previous three, it provides additional information for a well-rounded digital imprint.
When someone Googles a doctor name, practice name, or randomly looks for orthodontic treatment providers in local search, your goal is to BE SEEN and to BE FOUND. I find that most practices are aware of some Internet aspects, don't understand the importance of most, and often do not consider an integrated Internet strategy as a high priority until it may be too late. Their competition is already building strong rankings in local search, making it tough to catch up.
Your Digital Footprint
In order to be noticed, your practice must be as well-defined and identifiable as possible. It is easier for a tracker to identify and find their target with a fresh, well-defined footprint. What constitutes a well-defined digital footprint? It starts with consistency across the board on top-tier Internet databases that are distributing your information across the worldwide web. This allows the search engines to index and rank your information in local search results. This information includes:
Business or brand name;
Address;
Phone number;
Website URL or domain name; and
Category (orthodontist).
The business name, address, and phone number is sometimes referred to as the "NAP." The NAP is the backbone of your online presence. If your NAP is inconsistent, especially with conflicting business names and addresses, your business lacks online credibility. In essence, your digital footprint is inconclusive and can lead to ranking decreases. Practices that moved or changed their business name in the past 5 years are most adversely affected with the latest Google algorithm changes, released in the fall of 2013.
Many websites serve as listing databases and review sites for all types of businesses. You know of the heavy hitters like Google, Yelp, and Yellow Pages, but there are hundreds more dispersed throughout the Internet. They may focus not necessarily on the health industry, but on local business owners in general.
These databases draw information from one another, and there is automated sharing and categorizing of business details. If your business information is incorrect in one database, it can trickle down to others, slowly polluting your online brand. It is your responsibility as a business owner to notify databases of updates in NAP information. If neglected, chaos ensues, affecting your footprint and ranking in local search.
Why Control Reputation Management?
A strong online reputation is verifiable proof of your treatment expertise. A high-ranking, well-designed website with plenty of positive reviews and a visible social media campaign proves to the consumer that you are on top of your game. Furthermore, the Internet delivers your marketing message around the clock, 24/7. For most consumers today, the Internet is their preferred tool for research and communication.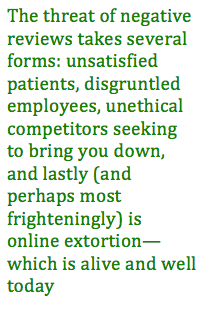 As a business owner, I suggest you proactively control positive feedback for your business on the Internet. Why? Because consumers tend to believe what they read, whether it is true or not. If you don't have a positive image and a cushion of reviews to offset negativity, it can adversely impact your practice.
The threat of negative reviews takes several forms: unsatisfied patients, disgruntled employees, unethical competitors seeking to bring you down, and lastly (and perhaps most frighteningly) is online extortion—which is alive and well today. Some individuals post damaging reviews and then require money in exchange for removal. If you have a cushion of positive reviews on multiple review sites, you are far less likely to be targeted by an extortionist or could survive an attack with minimal damage.
What if You Are Targeted?
It can be extremely difficult to reason with an unhappy patient or ex-employee, or bargain with an extortionist looking for money. An up-to-date website, rounding out your online review profiles and a measure of social media, are your best defenses. Extortionists prefer to prey on the weak, especially those with no digital imprint, setting the stage for negative information to be easily found. If you make the effort to build yourself a strong online reputation, it will go a long way in deflecting an attack.
The Internet continues to change at lightning speed. Google, Yahoo!, and Bing are updating continually while social media sites come and go in popularity. It is more and more difficult to control what is being said about your businesses across the various channels that continue to evolve. Consumers now have a predominant voice. Thus, ignoring your online reputation is no longer an option if you want to be competitive in today's digital world. No one can monitor your business like yourself. Be proactive rather than reactive for best results. OP
___________________________________________________________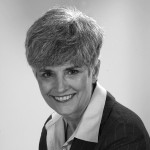 Mary Kay Miller, from Orthopreneur™ Internet Marketing, is an Internet marketing consultant for the orthodontic profession specializing in WordPress website design, SEO, local search, and reputation management. She offers the latest in Google marketing tips and mobile website setup techniques via a complimentary Internet marketing evaluation. For more information, contact her at (877) 295-5611 or [email protected] Visit www.orthopreneur.com for more information.