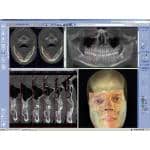 Planmeca, Roselle, Ill, has introduced two new products: the ProMax 3D ProFace, a CBVT imaging unit with integrated 3D face scan system; and ProMax 3D Mid, an extended selection of 3D volume sizes combined with traditional 2D panoramic and cephalometric imaging. Both products are based on the ProMax platform.
The ProMax 3D ProFace produces a 3D facial photo in addition to traditional digital maxillofacial radiography. The lasers scan the facial geometry and the digital cameras capture the color texture of the face. One scan generates both a 3D photo and a CBVT volume, or if required solely a 3D photo, in which case no radiation is emitted. The 3D photo visualizes soft tissue in relation to dentin, providing a follow-up tool for maxillofacial operations. Because the unit captures all the data in a single scan, the patient position, facial expression, and muscle position remain unchanged, resulting in compatible images.
The extended selection of volume choices on the ProMax 3D Mid optimizes imaging areas according to specific diagnostic tasks, while minimizing radiation. An optimal volume size is available for every application, including endodontics (requiring high resolution), implantology (requiring images with a smaller field of view), and orthodontics (requiring large image sizes). It is also capable of acquiring traditional panoramic and cephalometric images.
For more information about this and other orthodontic products, visit our Buyer's Guide.