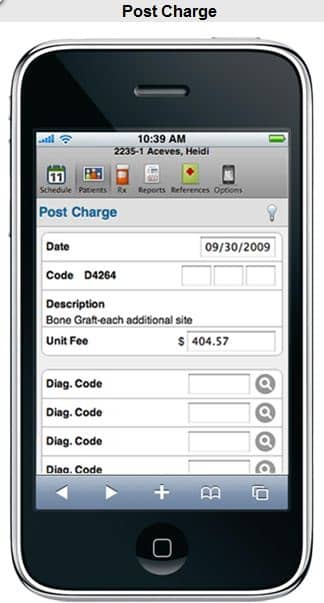 MacPractice Inc, Lincoln, Neb, has introduced the MacPractice iPhone Interface 2.0, a practice-management and clinical software application. The new app includes remote charge posting, staff and doctor reminders, practice-management reports, and access to referring doctors. The interface resembles MacPractice MD, DDS, DC, and 20/20.
Orthodontists can use it to connect to their office database to access their schedule and patient records. Patient photos, alerts, prescription history, and appointment history are also available. Doctors seeing patients at a remote location can now enter patients and post procedures and diagnoses into MacPractice from their iPhone (if they have the MacPractice HL7 Interface). The ability to enter planned treatment will be added in version 2.1.
The 2.0 version includes access to referring doctors, a new calendar, improved performance, updated security features, and new user preferences, according to the company. The iPhone Interface, which can be used in Safari on any Mac or PC desktop, portable, or tablet computer, requires MacPractice MD, DC, DDS, or 20/20, version 3.6.
For more information about this and other orthodontic products, visit our Buyer's Guide.