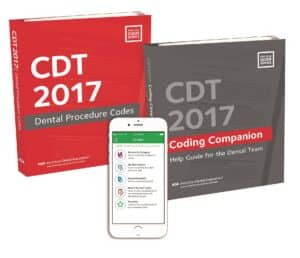 The American Dental Association (ADA) has released CDT 2017: Dental Procedure Codes. This latest edition of CDT is designed to streamline coding and help maximize reimbursement by third-party payors.
CDT 2017: Dental Procedure Codes features 11 new codes, five revised codes, and one deleted code. The manual builds on previous code sets with codes that fill documentation gaps, allowing for  easier, quicker, and more accurate coding. And, according to a press release from the ADA, more detailed options for documentation also provide better protection from legal liability, as well as fewer rejected insurance claims.
The Code on Dental Procedures and Nomenclature in CDT 2017 is the only HIPAA-recognized code set for dentistry.
Also available from the ADA is the CDT 2017 Companion: Help Guide for the Dental Team, designed to train dental staff to code more accurately and efficiently. Completely revamped, the Companion is now organized by coding category, each chapter written by dental industry leaders. The book includes more than 50 new and updated coding scenarios and answers more than 100 common coding questions.
In addition, the ADA offers the CDT Code Check App for iOS and Android, which allows dental professionals to access CDT codes on their mobile devices. An e-book and several product bundles complete the CDT 2017 offerings.
These tools have been made available ahead of January 1, 2017—the date the codes go into effect—to allow for staff training time.
CDT 2017 products can be preordered at adacatalog.org or by calling the ADA Member Service Center at 800-947-4746.
Save
Save