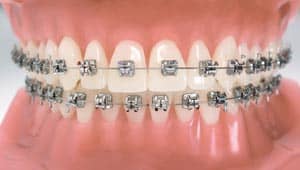 FORESTADENT,St Louis, introduces BioQuick®, the third generation of itsself-ligating Quick bracket system.
The company scanned approximately 4,000 teeth from around the worldusing 3D laser scanning, and this data was used to develop the brackets'base. The new base better corresponds to the anatomical curvature oftooth crowns due to its slight angulation. The base also has hook-styleundercuts for bonding.
BioQuick brackets have a circumferential pad margin designed to reducethe overflow of adhesive. The interactive clip has a new snap function.With the aid of a notch on the pad margin, the probe is guidedautomatically to the slightly extended clip, making it easier to openfrom the gingival. The clip provides more free space for archwires up toa dimension of 0.0018 inch because of a special support.
The brackets also have four contact ribs in the slot. The archwire onlyrests on two contact points, providing clearance and easingfriction-free sliding.
For more information on this and other orthodontic companies, visit our Buyer's Guide.