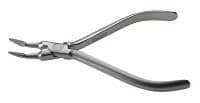 Ortho Organizers®, Carlsbad, Calif, now offers the Triumph Orthodontic Instrument line.
Each instrument features a stainless steel insert designed for enhanced cutting performance, as well as corrosion-resistant stainless steel forgings and diamond-hones cutting edges. In addition, the satin-finish instruments are laser-engraved with their part number and applicable archwire sizes.
For more information on this and other orthodontic companies, visit our Buyer's Guide.