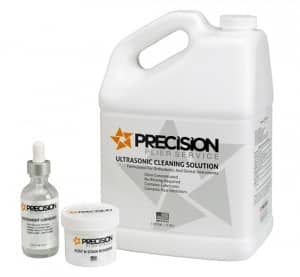 Precision Plier Service, Chino, Calif, recently introduced its new line of instrument care products. The Precision Plier Service brand of instrument care products includes Ultrasonic Cleaning Solution, Instrument Lubricant, and Stain & Rust Remover.
According to the company, the products were developed with the goal of prolonging instrument precision.
The Ultrasonic Cleaning Solution is available in 1 gallon and 4 gallon (1 case) quantities. One gallon makes up to 41 gallons of solution. The solution contains lubricants that are ideal for hinged orthodontic instruments and rust inhibitors to protect instruments and cutting edges. Ultrasonic Cleaning Solution requires no rinsing.
The Instrument Lubricant was specifically developed for hinged orthodontic instruments. The lubricant is steam permeable to ensure patient safety through complete sterilization. In addition, the formula contains no silicone and helps to inhibit rust and corrosion.
The Stain & Rust Remover paste is specially formulated for orthodontic pliers and instruments. The 3-in-1 paste cleans, polishes, and protects in one application, and can be used with chrome plated and stainless steel orthodontic pliers and instruments.
Save