Allure Ortho has carved out a niche within the orthodontic product industry as a company that focuses on quality, competitive pricing, and customer service without the flashiness.
When Allure Ortho entered the orthodontic supplier space 5 years ago, they did so with a mission: provide the products orthodontists need, from manufacturers offering the best quality, at the lowest possible prices. And all while focusing on the customer experience. In that time, the company has brought a range of products to the orthodontic clinic, from Taglus aligner and retainer material for in-office production, to brackets, wires, pliers, and curing lights. Orthodontic Products recently spoke to Dan Elkin, president and co-founder of Allure, about the company's 5-year anniversary and a few of the company's stand-out products.
Orthodontic Products: This summer, Allure Ortho is marking its 5-year anniversary. How has the company evolved in that time?
Dan Elkin: We started out in June 2016 as a two-person company crammed into a tiny 1,000-sq-ft office in Framingham, Mass, working around the clock to get ourselves off the ground. Fast forward a short 5 years later, and we're a company of 11 people with over 4,000 customers in a 10,000-sq-ft warehouse in Whitinsville, Mass. We grew quickly due to our customer-first philosophy. With a combined 30+ years of experience in the orthodontic field, we knew what products the orthodontists needed most, and we knew which manufacturers around the globe offered the best quality, so that we could offer these products to our customers at the lowest possible prices. We soon became a vendor for Mari's List, and constantly brought on exciting new products like Taglus aligner/retainer material, Eversmile White foam, and our new Ease Self-Ligating Gold Brackets. And we received one of the first AAO Supplier of the Year awards for 2019-2020.
OP: What is Allure's customer service philosophy?
Elkin: It's the bedrock of what we built Allure Ortho on. Making sure our customers are taken care of is something we put above all else. We set out to deliver great products at great prices with exceptional customer service.
OP: Allure offers several bracket options. What can orthodontists expect from Allure's range of brackets?
Elkin: We carry a few different bracket lines, but our flagship bracket is our Allure Mini Twin which is used by some of the largest practices in the country. It's a great bracket that offers consistent predictable results. It offers the same 17.4 stainless steel and 80-gauge mesh base as the big companies out there for a fraction of the cost. Our Essence ceramic bracket is one of the nicest clear brackets on the market and will never shatter at debond like the others out there. It is truly a favorite among orthodontists across the country.
OP: Allure also offers the T-Class and E-Class pliers. What are the standout features of these plier lines?
Elkin: Our T-Class pliers are up there with the top pliers on the market. The T-Class Flush Cut Distal End Cutters are known to be the best on the market and will cut and hold your heaviest stainless steel and TMA wire like butter. German stainless steel and incredible craftsmanship, along with their lifetime warranty, make T-Class pliers a no-brainer addition to an office.
The E-Class pliers are an incredible value for the money. Solid tools at a great price. This line features very popular instruments such as our E-300 NiTi Cinching Plier which is a favorite among assistants all over the country.
OP: What's ahead for Allure?
Elkin: We want to keep growing. We want to be a leader in the industry. We will continue to provide exemplary customer service and be on the forefront of innovation. We plan to be here for a long time and continue to build long lasting relationships with our customers.
---
The Brackets
Orthodontic Products spoke to Corwyn D. Hopke, DDS, MS, of Hopke Orthodontics, located in Puyallup, Wash, about his switch to the Allure Mini Twin and Allure Essence ceramic brackets. He shared his motivation for the switch and the efficiencies he found with these brackets and with making Allure Ortho his primary product supplier.
OP: What prompted you to start using Allure Mini brackets?
Corwyn D. Hopke, DDS, MS: I started using Allure Mini brackets (pictured, right) in February of 2018. I was finding a high rate of bracket deformation when re-using brackets for repairs or repositioning. I wanted a bracket affordable enough that I could throw it away for cases when I knew there would be a lot of repositioning. I was prepared to switch back to "name brand" brackets for final detailing as needed. But as I got into full-sized wires, it quickly became clear that wasn't necessary. The Allure brackets were just as high quality as any other brand and very often higher quality. In 3½ years of using these brackets, I've never had a slot collapse and never had a bracket detach from the base. Prescription expression is as accurate as any other bracket I've used. The Allure Mini is an inexpensive bracket, but certainly not a "cheap" (low quality) bracket.
OP: You also use Allure Clear brackets. What has your experience been with these brackets?
Hopke: Satisfied. Given my experience with the Allure Mini, I started trying out other Allure products. The Allure Essence clear bracket blends in very well with natural tooth enamel. I found the Allure Essence's debond cleaner and had fewer fractures than with other ceramic brackets I've used. The older version had a higher-than-average rate of bond failure, but that seems to be resolved. Careful buttering of the bracket is important, but definitely worth it for the great looks and easy clean-up. I love that I can delegate bracket removal even to inexperienced assistants without worry about having to spend all day grinding off the remnants of a fractured bracket.
OP: You use Allure Ortho as your primary product supplier. Why?
Hopke: We've switched over to where Allure is our primary supplier for most items they sell. The story with all their products is consistency. Allure offers a great price by cutting the glitz instead of quality. Allure doesn't have reps coming out every other month to buy me lunch, but I can buy my own lunch with the money I save. That doesn't compromise on service though—when we call, we get directly in touch with Dan Elkin, president at Allure Ortho. Dan is one of the few vendors who sends tracking numbers for every order so we know exactly when it's coming. This system is much more efficient when we have a question or an issue since we cut out the middle man.
---
The Cutters
Orthodontic Products also talked to Douglas M. Palaganas, DDS, of Dr Doug Orthodontics, located in Rockville Centre, NY, about his choice of T-Class cutters. Palaganas explained what makes these cutters different from others on the market and the small efficiencies the right cutter can have on the clinical team's workday.
OP: What has your experience been with Allure Ortho's T-Class instruments?
Douglas M. Palaganas, DDS: The Allure T-Class Flush Cut Distal End and Ligature Cutters are the only cutters I have purchased over the last few years. The Flush Cut Distals are by far the best distal cutters I have used in my 15+ year career as an orthodontist. My team knows never to use any of the other cutters we have floating around the office if they need to cut a rectangular wire intraorally: Because these cutters are the least likely to pop a tube.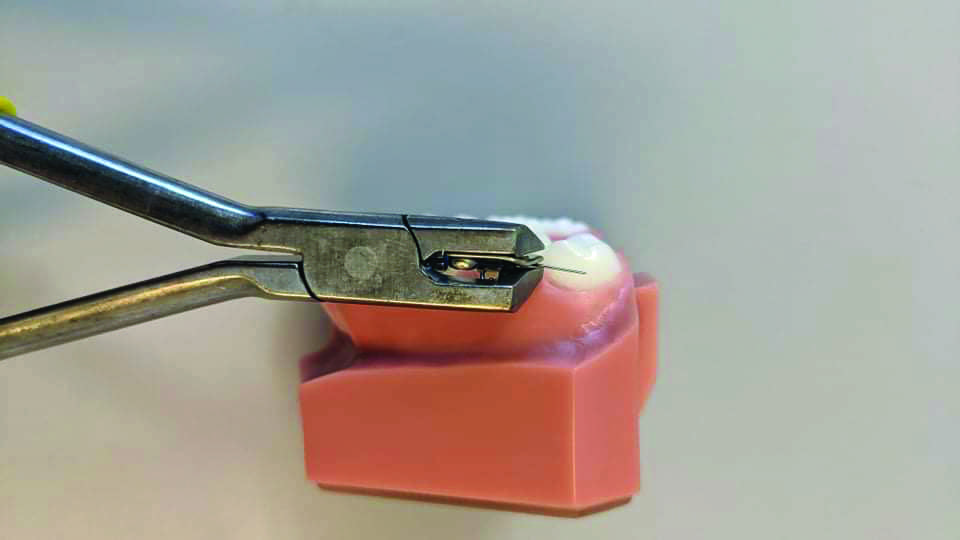 OP: What makes the T-Class cutters stand out?
Palaganas: Unlike most cutters, the T-Class have opposing cutting ends. Most other cutters have one cutting/sharp end that push against a flat end. Having the wire cut from both sides when you squeeze it, means less pressure and vibration on the tube when you cut, thus less broken molar tubes and easier cutting. There is nothing myself and my team hate more than popping a molar tube when you clip an end at the end of a visit.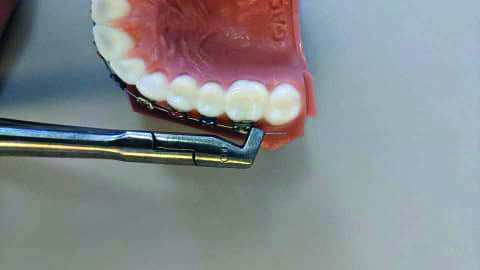 OP: What else stands out for you about the T-Class instruments you use in your practice?
Palaganas: My team also love the durability of both the distal and ligature cutters. While all ligature cutters need to be sharpened every so often, I have yet to re-sharpen any of my Allure distal cutters. Aside from the performance, I can buy two or three of the T-Class cutters compared to the prices of some other high-end companies. You can't beat their incredibly high quality and low price.OP