OP: What inspired you to make a big deal out of debanding patients?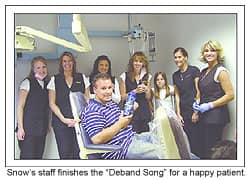 Snow: Our goal at Snow Orthodontics is to have every patient leave our office as a "raving ambassador." There are three opportunities to do this. The first is at the initial consultation—it is the patient's first impression. The second is during their ongoing treatment; we make sure that our customer service goes above and beyond. The third is the last impression that a patient will have—that is at deband. This is a special moment, and it should be celebrated; that's why we make a big deal about it with our "Deband Song" and Snow water bottle filled with all of the candy that the patient was not supposed to be eating while the braces were on.
OP: Who came up with the specifics of what to do?
Snow: We've always tried to make debands special, but we learned the "Deband Song" at the AAO Annual Session at one of Rosemary Bray's presentations. We added the Snow water bottle and candy.
OP: What (and who) does your performance include?
Snow: The performance includes as many staff members as possible. Our records tech announces "DBS," ("Deband Song"), and any and all staff members go to the records room and sing. There are anywhere between 6 and 12 staff members.
OP: How does the song go?
Snow: It's to the tune of "When Johnny Comes Marching Home," and the words are:
You got your braces off today
Hooray Hooray
You got your braces off today
Hooray Hooray
Your teeth are straight, your smile looks great
You worked hard now celebrate
Because you got your braces off today
HOORAY!
We can't take credit for this; this is one of Rosemary Bray's deband songs.
OP: How has your debanding performance changed since you first started doing it?
Snow: We used to present them with what we called a "deband goodie bag." We've been doing the "Deband Song" for a number of years now, along with the Snow water bottle filled with candy.
OP: Any plans to add to or improve it?
Snow: At Snow Orthodontics, we are always looking to improve. We are always looking for new deband songs, and we are thinking about adding balloons. We thought that it would make an impression on our patients if they not only heard the song, but then saw the deband patient leave the office with the water bottle full of candy and a bunch of Snow balloons.
OP: Have you had concrete indications that your debanding ritual creates positive word of mouth among patients?
Snow: Absolutely! When we first started singing the song, we watched the patients. The parents and patients in the clinic all moved toward the records room to see what what was going on; and the same with the ones in the reception room. It really caught their attention. We even heard some parents say to their child, "You'll get that when your braces come off."
OP: What other methods do you use to create a fun atmosphere in your office?
Snow: Our office is fun. The staff is upbeat; attitudes are left outside when we get to work. The patients are always our focus. We celebrate holidays (like St Patrick's Day and Valentine's Day) with balloons all over the office; the staff wears funny headbands. We've also had dress-up days, like our Austin Powers Day, when we decorated the clinic to look like the 1970s, complete with a disco ball. z
Gilbert H. Snow, DDS, is in private practice, with offices throughout California's Antelope and Santa Clarita Valleys. He is also the founder of the Hi Desert Children's Dental Clinic, which provides free dental care to low-income children. He can be reached at [email protected]