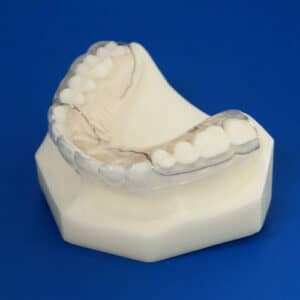 Great Lakes Orthodontics, Tonawanda, NY, introduced the patent-pending Hybretain™ orthodontic removable retainer. According to the company, Hybretain combines the features of a traditional and a thermal-formed retainer into one appliance.
Hybretain uses a crossover wire, distal to canine, for stability and a distal wrap wire for added retention. It is designed with no occlusal acrylic and minimal palatal acrylic for patient comfort.
According to the company, this invisible hybrid appliance is designed to offer excellent retention, aesthetics, and patient comfort, and is highly durable and wear resistant.