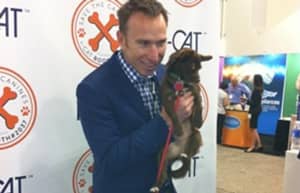 i-CAT™, Hatfield, Pa, announced that its partnership with the Milo Foundation—a no-kill animal shelter based in northern California—at the recent American Association of Orthodontists  (AAO) Annual Session in San Francisco raised $3,000 for education, adoption services, and animal sanctuary. Annual session attendees were able to take photos with rescue dogs at the company's booth to raise donations and help promote pet care awareness.
The partnership with the Milo Foundation was part of the company's "Their Story" campaign featuring Dr Sean Carlson and his patient Natalie. As part of Natalie's treatment, Carlson utilized the i-CAT to complete scans to save her transmigratory impacted canines in the mandibular jaw. At the meeting, orthodontists were able to meet with Carlson and Natalie and learn about how i-CAT scans can aid in diagnosis so that the orthodontist can treatment plan to allow patients to retain their full complement of teeth.
Carlson's case, which related to saving canine teeth in humans, paired well with the canine rescue efforts of the Milo Foundation.
John Fonseca, Outreach Coordinator for the Milo Foundation, said, "What a success it was for the Milo Foundation to join with i-CAT at the AAO Annual Session! Our Founder and Director Lynne Tingle and I enjoyed being there with the rescue dogs and meeting so many animal lovers who supported our joint efforts to raise much needed funds as well as awareness about animal rescue. Most special was to see the kindness and affection the attendees showered on the Milo dogs, who lapped up the attention! Thank you for helping Milo and the amazing beings that simply need a chance in a loving home."