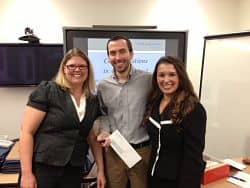 Forestadent USA, St. Louis, recently named the winners of its 2012 scholarship program. The winners, who are current residents in an orthodontic program, received $5,000 to help with their education expenses.
This year's winners are Drs Ryan McComb (pictured), UCLA; Christopher Teeters, University of Minnesota; and Robert Trujillo, University of Oklahoma. The panel of judges, comprised of professionals from various sectors of the orthodontic industry, evaluated the applicants on academic achievement, community involvement, demonstrated leadership, dedication to the field, vision of excellence, and a genuine compassion for their patients.
The scholarship program was developed in 2010. To date, Forestadent USA has invested $45,000 in scholarship funds for orthodontic education.
Eligibility and applications requirements for the 2013 scholarship program are available on the company's Web site. Any questions about the Forestadent USA Scholarship Program can be directed to [email protected].