Hen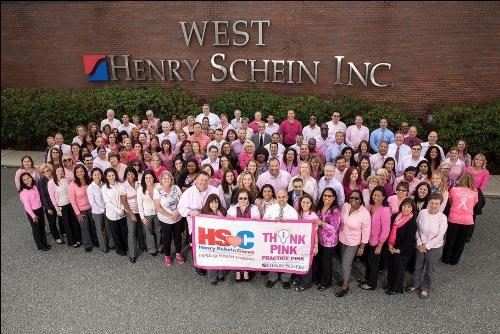 ry Schein Inc, Melville, NY, announced that its "Think Pink, Practice Pink" cause-related program has contributed more than $173,000 to cancer-related causes in 2014.
The Think Pink, Practice Pink program offers Henry Schein customers an opportunity to purchase a wide variety of pink products, from healthcare consumables to practice supplies to apparel. A portion of sales from these products are donated to cancer-related organizations through the Henry Schein Cares Foundation, a 501(c)(3) organization that supports and promotes increased access to care globally. Beginning in 2005 with an initial focus on breast cancer, the program has expanded over the years to support a broader portfolio of cancer-related causes, including pediatric and oral cancers. Since its inception, the program has raised more than $800,000 and has supported a diversity of initiatives and programs that help improve access to care, prevention, and education for cancer patients.
This year's donation recipients included the American Cancer Society (ACS), Steven and Alexandra Cohen Children's Medical Center of New York (Cohen Children's), Stony Brook Children's Hospital (Stony Brook Children's), and the Global Oral Cancer Forum (GOCF).
As part of the Think Pink, Practice Pink program, Team Schein members at multiple company locations wore pink on selected days during October and were provided with essential information about breast cancer detection. In addition, Team Schein members donated their own funds, with matching funds provided by the company.
Henry Schein also provides in-kind support to cancer-related organizations, including the donation of 1,500 Henry Schein Cares Welcome Kits to the ACS's Hope Lodge, a network of free, temporary housing services throughout the country for cancer patients and their loved ones. For the sixth year in a row, the company provided kits containing personal hygiene and related items to help make guests' stays more comfortable.