As Thomas M. Gwaltney, founder and president of Georgia-based Oasys Practice LLC, puts it, "Access to information and communication are and have always been the most important needs of any dental practice." And the ability to act on that information "will always be critical." As the company enters its third decade providing software applications to the orthodontic space, Orthodontic Products spoke to Gwaltney about the new products the company is launching to meet those needs—from imaging and treatment modules to applications aimed at streamlining patient forms, checkout, and payment.
What's new at Oasys?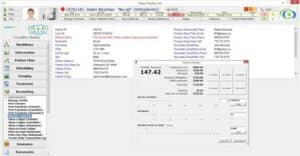 There are a great deal of new and exciting program additions and enhancements happening here at Oasys along with changes to the way we can better service our new and existing customers. We are getting ready to release our all new rewritten Imaging module, our Treatment Intelligence module, and our new CrossFire InFlow App. InFlow will allow patients to fill out forms online as well as provide the practice with updated information and payment details automatically. Add this to our already comprehensive e-mail and texting modules and practices will have communication tools that are unsurpassed. We also have several years of perfecting our Cloud2U product and are very proud of the speed and reliability without sacrificing any functionality of our software.
Oasys CrossFire also has an automated Patient Self Checkout module that complements our Patient Self Check-in, making getting in and out of the practice very efficient and fast.
We also recently completed a "pick your payment" contract feature that allows the patient to easily select a payment amount because your staff can show an easy-to-use slider tool to help achieve the "selected" payment. The setup of the program can be configured to charge different levels of interest based on the length of the contract. Example: the practice does not want to charge interest on a contract that is less than 18 months, but does want to charge 1% per month if 18 to 24 months or 1.25% if length is above 24 months. This module is completely customizable.
The CrossFire development team has also been working very hard on our Ortho/Pediatric module and has added many new features. More exciting news on this project coming soon.
Tell us about the new treatment intelligence and imaging modules.
Treatment Intelligence is a new feature that can report on an individual patient or report on treatment for the entire practice. Our software already has custom treatment plans synchronized with the patient's treatment card, along with a treatment timeline that indicates whether a patient is "on time," how many days ahead of estimated treatment time, or how many days behind in treatment. When the treating provider notices a problem, he/she will simply click an icon that will display up-to-date information regarding the patient's case. He/she will see how many visits, number of no-shows, missed appointments, average treatment time for this type of malocclusion, cooperation, hygiene, elastic wear, headgear wear, etc, and can easily drill down on the information. The report also indicates trends for this patient. The practice-wide report displays averages for all types of malocclusions, giving the practice real data on how to predict treatment time and costs. As far as we know, no company has ever offered this much in-depth data on demand.
The new Imaging Module will be adding many new features and a brand-new updated look and feel. Some of the new features allow for easier cropping, easier integration with e-mail and our document systems, and a new view to look at periapical x-rays. All of the features of our classic imaging and collage programs are incorporated into our new imaging app. As always, existing users can use both old and new imaging until they are comfortable with the new system.
You mentioned the "pick your payment" contract program. What was the motivation for creating this program?
I was approached by several of our existing customers at our user meeting last winter who wanted to charge interest on contracts that were more than 18 months and charge a higher rate as the term was lengthened. We try to develop new programs for all practices and cover as many different needs as possible. This program is a tool for the financial coordinator to easily come up with a payment plan for all patients. The ability to charge interest, or not charge interest, at varying levels of contract length can create a new revenue stream for all practices and/or make designing a payment plan very easy that suits both the practice and the customer.
How does the new automated patient checkout module help a practice with patient flow?
Great question! Most practices don't really understand what this module does. Think about going to the self-checkout position at the grocery store. Patients check themselves in at the self-check-in kiosk. When treatment is complete, they go to the self-checkout kiosk, choose an appointment time from a list (the system knows when to schedule them based on input at chairside), print or e-mail an appointment card, and leave. We have practices that have all patients check themselves out, saving both the patient and the practice a great deal of time. The practice can set the program to not display their name if they owe money, or are of a certain age, thus forcing them to the front desk. You can also have the system automatically vary the times available from appointment to appointment. There are many more features to customize this module.
What kind of customer support do you offer with your products?
As far as service goes, we are continually looking for better ways to communicate with our customers. Our customers can call, e-mail, live chat, or go to our new customer portal to search the knowledge base, watch training videos, or ask questions. They can also track progress on a particular issue, or post a new issue. This has greatly increased our response time and customer communication.
Our average support staff member has been with us for over 10 years, so you will always be helped by a knowledgeable support person. Updates can be automatic or an Oasys staff member will always be there to help with an update.
In your opinion, what's the next big thing in orthodontic software?
Access to information and communication are and have always been the most important needs of any dental practice. The ability to act on this information will always be critical. Software companies that perfect these needs will be the next "Big Thing." Oasys developed applets called workflows years ago and we are finding them to be more useful today than ever before. Workflows are practice defined and can handle virtually any task an office can dream up and now can be accessed by any authorized practice member from anywhere. Add that to our tasking system, which prompts tasks to be sent to the staff based on time, posted procedures, payments, and/or many other processes that happen daily (even multiple times per day), and you have a complete system that is action oriented. These items along with a new patient portal promote communication with your customers as well as best referrers; a winning combination. OP