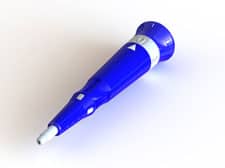 Propel Orthodontics, Ossining, NY, has announced the launch of the Propel Clinical Case Challenge, to showcase how micro-osteoperforation can be used to treat challenging movements, such as stubborn space closures, tooth rotations, and cant corrections with either aligners or braces. The company is offering participating doctors a "risk-free opportunity" to try the Propel device while treating some of the most difficult cases.
Doctors are invited to identify at least three active cases involving what the company calls "challenging movements," to be scheduled for a Propel Challenge Day in their practice. Their local Propel representative will provide hands-on training with the micro-osteoperforation technique, and will be present on Challenge Day during the Propel treatments. According to the company, "If the clinician is not fully satisfied with the results, the cost of the product will be refunded."
In addition to the risk-free trial, Propel is partnering with two industry journals to publish the cases demonstrating the "most outstanding clinical progress." A committee of clinical experts will select the cases to be featured in upcoming issues.
For more information about Propel's Clinical Case Challenge, call (855) 377-6735 or email [email protected].