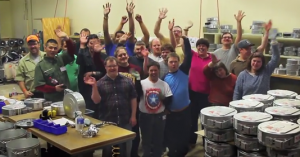 Stratasys Ltd has introduced a North American recycling program that provides code-compliant, free waste disposal for 3D printing material and FDM canisters.
The recycling takes place at Stratasys' Eden Prairie, Minn, facility, and Stratasys has hired employees for the program from Lifeworks, a nonprofit organization serving people with disabilities.
From the Stratasys website, customers can print out their own pre-paid UPS shipping label. UPS then picks up and ships the recyclables straight to the Stratasys Eden Prairie facility free of charge. The recycling program, which is currently available only in North America, does not include disposal or shipping of dangerous goods.