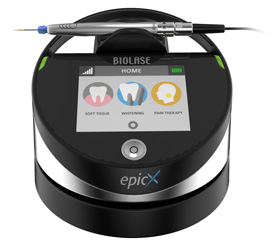 BIOLASE Inc, Irvine, Calif, introduced the EPIC™ X diode laser, the company's new version of the EPIC 10.
BIOLASE reports that the EPIC X offers faster procedures for three treatment modes—surgery, whitening, and pain relief. In addition, its new, preinitiated diode tips are designed to cut procedure times and offer a consistent tip condition for soft tissue surgery.
The EPIC X offers a Reliability Assurance Plan to users that ensures they are never without an EPIC X laser for more than 24 hours.
EPIC X systems are currently available in the United States, with a full global launch slated for the future.