Five years ago, my wife, and fellow doctor, Emily, and I were running our practice just fine. Treatment results were good, patients were happy, and our team handled patient care smoothly. However, we knew we could be doing even better. We wanted great results, elated patients, and to deliver top-notch care. We believed technology was the differentiator.
The research began. As a frequent speaker and someone who is involved in the orthodontic community, I know this situation is not wholly unique to my practice. Many of us are on the hunt for a way to simplify our practice operations and make day-to-day treatment more fluid.
At the time, we were specifically looking at CAD/CAM rendering as well as ways to infuse further customization in our practice. Experienced orthodontists, our mentors, can instantly visualize how teeth will come together. Those of us that haven't been working in the field for decades can gain a competitive edge by leveraging digital technology to have a vision of the treatment goals before treatment is started. Digital technology offers us the 360-degree perspective we need.
During our search for technology to help us elevate our practice, we came across the Lythos™ Digital Impression System and Insignia™ Advanced Smile Design™, both part of Ormco™ Custom. I'm a big numbers guy, and the non-reusable nature of PVS impressions drives me crazy—it's an unnecessary and costly overhead. The Lythos scanner eliminates the need for PVS impressions—reducing costs—and increasing my visibility of the patient's intraoral anatomy. Additionally, with this scanning technology we have immediate delivery of the scan image to the lab versus the week wait time associated with shipping PVS impressions. Plus, Lythos has been a practice builder due to patient satisfaction. Let's be honest: patients despise impressions.
The latest Insignia software, Insignia™ Ai, sets our team up with a 3D—and predictive—view of patients' teeth. As we work to catch up to our orthodontic mentors, Insignia provides a clear visual of how the teeth are expected to move and has become an essential part of our treatment design process. With precision bracket placement and clear jigs, we have eliminated the guesswork. Looking at our practice's numbers, with Insignia, we have 2.3 fewer appointments per patient. Think about it: 2.3 appointments multiplied by 250 active patients, equals 575 fewer appointments.
Your Practice's Approach to Digital Solutions
Now, every practice is going to have a different approach to digital solutions. At our practice, we slowly rolled out new technologies to keep from overwhelming our staff. Each technology change happened with an ample amount of time in-between—it's not like one day we said, "Our practice is going completely digital. Get on board, or get out." It's essential to keep in mind that during the transition, you have a practice to run. In order to ensure you are setting your staff up for success, I recommend transitioning slowly. Take it one step at a time when transitioning to new solutions so that you can retain and relieve that great staff of yours.
Starting the process of adopting digital orthodontic solutions requires full investment of your practice's leadership. You have to believe in the product and what it will do for your practice so your employees will reflect those feelings. Once leaders are on board and ready to dive into the digital realm, it is imperative to take into consideration the ups and downs that come with digitally reinvigorating your practice. Here are four core tips:
Brush up on your coaching skills: The transition to digital technology is smooth, but not easy for everyone. It will take you and your team time and effort to make sure everyone is comfortable with new processes. Most digital solutions on the market are very intuitive, but some team members will struggle—keep them motivated and excited about the technology, and make sure not to put too much.
Come up with a game plan: We conducted formal training time as well as ad hoc training for our staff. Our employees also appreciated us explaining the big picture, or next steps, to the team when we were all together.
Delegate your MVP: Find out who on your team is good with technology, and then let him/her lead the charge on training. One of our least seasoned staff members was most talented with the Lythos scanner right off the bat, so we had her help train the others. In every transition to a new solution or process, we have named a key employee as the staff lead. Don't underestimate the benefit of empowering your staff to be leaders.
Play like a team: If there is ever a concern or request about the new technology, involve the entire team. Group decisions keep everyone on the same page.
Today, our practice is a different place, and we are more in control of patient outcomes and practice operations. In my opinion, the personalization that comes with digital technology—scanners and treatment planning software—is the secret to reducing costs and creating a more efficient practice, where patients and staff are happy.
[sidebar float="left" width="400″]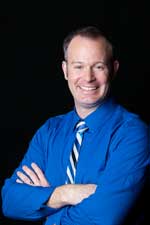 Timothy Bandeen, DDS, MS, is an orthodontist in Battle Creek, Mich. He completed his DDS at the University of Michigan School of Dentistry, going on to the University of Tennessee for his specialty training in orthodontics and to complete his Master's. While attending the University of Tennessee, he was awarded the James Powell Research Award for research that contributes to the Arts and Sciences of Orthodontics & Dentofacial Orthopedics for his thesis on the effects of sickle cell disease on growth of the craniofacial complexes. Upon completing his residency, Bandeen worked with an orthodontic practice in Southaven, Miss, and served on the faculty at the University of Tennessee in the orthodontics department as a clinical instructor and as director of the graduate course in cephalometrics and radiology.  [/sidebar]