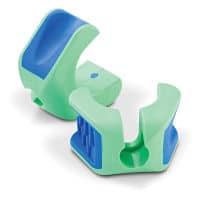 IndiGreen Innovations, Greenville, NC, has introdcued the Soft-Prop™ mouth prop. Designed for edentulous patients, the Soft-Prop cradles an edentulous ridge in its smooth, contoured groove. The latex-free mouth prop also maintains an open field while holding a saliva ejector in place.
Any standard saliva ejector can be inserted into the prop before connecting to a valve, or Soft-Prop may be used without a saliva ejector. Its C-shape is designed to aid in side access and visibility. It is made of rigid polypropylene with soft elastomer pads, and is fully autoclavable.
For more information on this and other orthodontic companies, visit our Buyer's Guide.