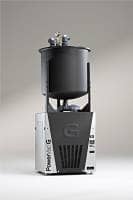 Midmark Corp, Versailles, Ohio, has launched the PowerVac® G, a new dental vacuum. According to the company, the PowerVac G can save an orthodontic office up to 83% of the energy required to run similar-sized vacuum systems.
The PowerVac G features an energy-management system that monitors vacuum demand and provides the vacuum only the necessary energy. In addition to a reduction in energy usage, the PowerVac G can achieve noise reduction as low as 48dBa and heat reduction of up to 30%.
The PowerVac G also has a waterless design.
For more information about this and other orthodontic companies, visit our Buyer's Guide.