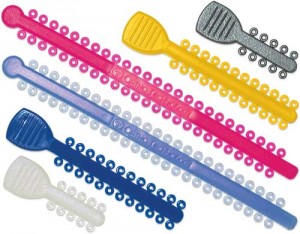 Ortho Technology Inc, Tampa, Fla, now offers mid-size and redesigned mini versions of its Power Sticks™ Elastomeric Ligatures.
The new design features a larger tab for easier and more secure grip to help facilitate adjustments. The Mid-Size Power Stick is designed for a patient's complete upper and lower arches.
Each stick has 24 ties, allowing clinicians to ligate either 6×6 upper and lower, or 5×5 with an extra four ties for any necessary re-ligating.
According to the company, all ligature sticks correlate to the Maximum™ Power Chain colors and the existing elastomeric color palette.