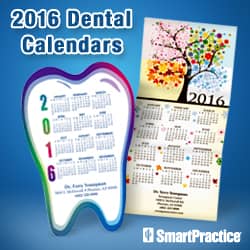 SmartPractice®, Phoenix, has made its 2016 practice giveaway calendars available for purchase. The calendars are available in a number of dental-themes and are intended as brand-building giveaways for new and existing patients. Practices can also incorporate the calendars into seasonal mailings, thank you and welcome communications, and statements or invoices.
Calendars are available in multiple formats, from conventional wall calendars to magnetic, ReStix™ stickers, postcard, promotional, trifold, and pocket style. In addition, several types fit in #10 envelopes with no extra postage required.
The calendars can be personalized with practice contact information and logos.