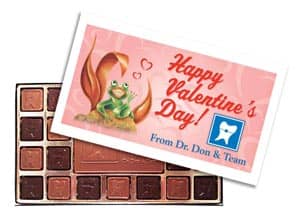 In time to order for Valentine's Day, Smile!, Novato, Calif, offers chocolates that incorporate custom art on both the lid of the box and in the milk and dark chocolate. Each box contains more than 44 pieces of candy. The gift is a one-of-a-kind creation, including a personalized gift card for your referring offices.
In addition to chocolate, Smile! offers custom cocoa, private label coffee, wine, and elegant complimentary gifts including laser-engraved calculators and tools.
For more information, contact Smile! at (888) 227-3735.