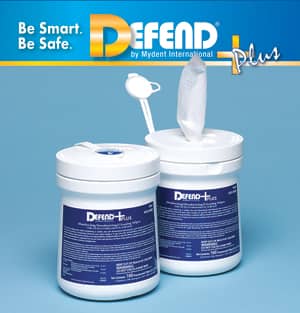 Mydent International, Hauppauge, NY, offers DEFEND® + PLUS disinfecting, deodorizing, and cleaning wipes with broad-spectrum disinfection. DEFEND + PLUS wipes contain a stable, low-pH formulated disinfectant and deodorant for use on hard, nonporous surfaces where control of cross-contamination is required. They are nontoxic, nonallergenic, and provide a residual effect on treated surfaces.

The wipes contain a dual-chain quaternary ammonium/alcohol formula that, according to the company, has proven effective against Staphylococcus aureus, Trichophyton mentagrophytes (athlete's foot fungus), Pseudomonas aeruginosa, Salmonella choleraesuis, methicillin-resistant Staphylococcus aureus (MRSA), Escherichia coli 0157:H 7, vancomycin-resistant Enterococcus faecalis (VRE), Herpes simplex virus 2 (genital Herpes virus), Influenza A (A2 Japan), and HIV-1 (AIDS virus), all in 5 minutes. The wipes are effective against Mycobacterium tuberculosis, HBV, and HCV in 2 minutes.

Through December 31, 2009, customers who buy 12 canisters will receive a $10 Target gift card.
For more information about this and other orthodontic companies, visit our online Buyer's Guide.