by Christopher Piehler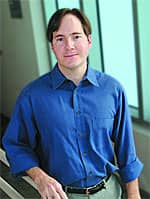 Welcome to fabulous Las Vegas, home of the AAO's 106th Annual Session. Though I personally plan to do nothing but work every minute I am in Sin City, I understand that some of you might slip away to the blackjack tables for a few minutes. So, as someone who has hung out with his share of professional gamblers, let me give you a tip: If the dealer at your table is showing an ace and offers you insurance, don't take it. In this case, "insurance" means increasing the amount you have bet. I won't go into a complex mathematical analysis, but unless you are a Rain Man-level card counter, insurance is a sucker's bet.
I bring up blackjack insurance not only to show off my advanced level of casino sophistication, but also because insurance of the medical/dental kind is very much on my mind these days. On our new Web site, orthodonticproductsonline.com (if you haven't checked it out yet, do yourself a favor and drop by), our first Weekly Poll asked a simple question: "Do you accept insurance?"
As of this writing, 64% of respondents said that they do and 36% said that they don't. I certainly don't present that figure as scientific evidence, but I think it is safe to say that a significant number of orthodontists doesn't accept insurance. And in the eyes of many orthodontists, this is a good thing.
I was talking recently to a member of this magazine's Editorial Advisory Board, who was praising the financial robustness of another orthodontist's practice. The final proof of this orthodontist's success? "He doesn't take insurance."
Now clearly there are some disadvantages to accepting insurance: more paperwork, more follow-up calls for administrative staff to make, and less control over fees, to name a few. But then again, by not accepting insurance, orthodontists are rolling the dice. Of course, no one wants to turn away a patient for financial reasons, which leaves orthodontists with the option of either paying a financing company or taking on the financing themselves. Either way, they're putting more money on the table.
Enjoy the issue, and whatever else you do in Vegas, always double down on 11.