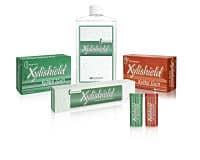 Ultradent Products Inc, South Jordan, Utah, has introduced the Xylishield line of oral hygiene products, which includes gum, mints, mouth rinse, and toothpaste, each containing high levels of Xylitol, an all-natural sweetener designed to shield teeth from cavity-causing bacteria. According to the company, studies demonstrate that consuming 6 to 10 grams of xylitol per day may reduce the risk of tooth decay.
Xylishield gum is available in fresh spearmint or cinnamon flavor. The complete line of Xylishield products are also available in a "dental care kit."
For more information on this and other orthodontic companies, visit our Buyer's Guide.