A new book from the CEO and founder of the National Dental Law Center sets out to help chairside practitioners navigate the journey to successful entrepreneurship, while raising the bar for legal representation of dental professionals.
By Tonya Johnson
Business is booming at your first orthodontic practice, and now you've got your sights set on where to launch a second location. Before you sign your name on the bottom line of a new contract, Buy, Sell, Merge: How to Navigate Successful Dental Practice Transitions for the Entrepreneurial Dentist, by William S. Barrett, Esq, with Casey Gocel, Esq, is a must-read.
Through a series of true stories and legal case scenarios from Barrett and Gocel's client portfolios, orthodontists and general dentists alike can educate themselves on how to avoid potential business pitfalls; and discover practical solutions to thrive as successful entrepreneurs in the dental industry.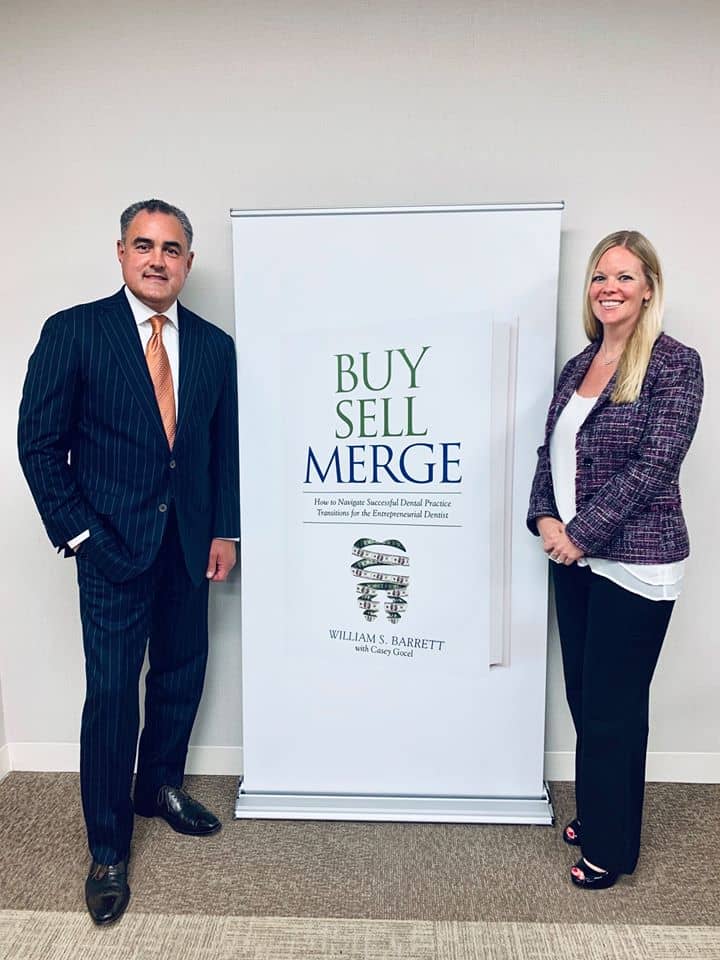 Barrett comes to the topic with over 20 years of experience as a lawyer, specializing in mergers and acquisitions in the corporate and business arena. Barrett is both CEO of the New Jersey-based law firm Mandelbaum Salsburg PC, and the founder of the firm's National Dental Law Center, a team of attorneys that specifically focus on representing dental professionals in buying and selling their practices, handling associate buy-in contracts, employment law matters, DSO formations, and more. For Barrett, the Center is about setting the bar higher for the legal representation of dentists and dental specialists in practice transitions.
It was a dental specialty consultant client, during the early part of his career, who convinced him he was on to something big when he set out to make the firm an expert on the legal issues surrounding the dental field.
"He was impressed with how the law firm was able to provide a wide array of services to him," explains Barrett, who will speak at Dentsply Sirona World 2020 in Las Vegas and the Greater New York Dental Meeting in the fall. "When he needed to acquire real estate—we had real estate lawyers; when he had employment law matters—we had employment lawyers; when he had a tax issue—we had tax lawyers." And when that particular consultant was able to observe closely what a sophisticated full-service law firm looked like for an entrepreneur, he began referring his colleagues, because few of them were receiving proper legal representation that reflected a knowledge of the dental field. That same client invited Barrett to attend a number of dental industry conferences, and that's when Barrett realized that his client was right about doctors not being served well.
Once the seed was planted, Barrett initially focused on expanding the firm's reach in the New York Tri-state area, networking with local dental professionals, presenting his services to various study clubs and groups. Once he started speaking at larger venues nationally, he noticed the problem existed for dentists across the country. To date, Barrett and his team have provided services to hundreds of dentists, orthodontists and other specialists going through practice transitions and currently have over 30 pending active transitions that represent deals in New York, New Jersey, Connecticut, Texas, California, West Virginia, and Florida. The firm is a member of Primerus, an affiliation of mid-sized, well-vetted law firms throughout the country and around the globe. Primerus' national network of attorneys allows Mandelbaum Salsburg to provide local counsel on any deal where the firm does not have a licensed attorney. Today, the firm comprises 160 people between its 80 lawyers and other staff members, including co-author, Gocel, who is a shareholder, seasoned transactional lawyer and equity partner at Mandelbaum Salsburg, specializing in corporate transactions as well as tax and estate planning.
---
---
"We have a ton of experience and know what the regulatory issues are around the country," he adds. "You can find smaller firms for individual practitioners or little boutique operations with just a few lawyers. But very few large firms of our size have a specific commitment to the profession of dentistry and dental specialty practices. That's where I think we're unique, that's our competitive edge."
Barrett and Gocel wrote their book to help "chairside practitioners" develop into successful "dental entrepreneurs," says Barrett, and to offer dental professionals some practical guidelines as they navigate their transition. After presenting Buy, Sell, Merge for the first time in front of an audience of 200 doctors during Dentsply Sirona World 2019, Barrett signed more than 350 books for practitioners who were happy to get good advice on how to operate and maintain a healthy business.
The book addresses a number of topics related to buying, selling, and merging, including practice worth, understanding financial terms of the deal, the pros and cons of buying in, and doing deals with DSOs. What's more, the book also takes a sobering look at what can go wrong in these situations.
Barrett, who will take part in a live discussion about the book at the New York County Dental Society in New York City in March, is quick to stress the importance of having legal representation to navigate these events. Without a committed long-term working partner onboard, in Barrett's opinion, it's very hard to build a good orthodontic practice.
Buy, Sell, Merge: How to Navigate Successful Dental Practice Transitions for the Entrepreneurial Dentist can be purchased at Amazon.com or Barnes and Noble in hardcover and electronic formats. OP
Tonya Johnson is the associate editor at Orthodontic Products.