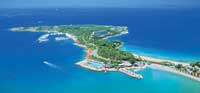 Forestadent will be holding its annual orthodontic symposiumon the peninsula of Vouliagmeni, Greece.The symposium will take place October 3 and 4, 2008. Topics will include molar uprighting, space closure, and distalization. Speakers will including Prof Dr Bjorn Zachrisson and Prof Dr Athanasios Athanasiou.
The social program will include a gala dinner, a golf tournament, and a disco night. Vouliagmeni itself is known for its famous lake with thermal water spas, a mild climate, and scenic beauty.
For more information, please visit www.forestadent.com.