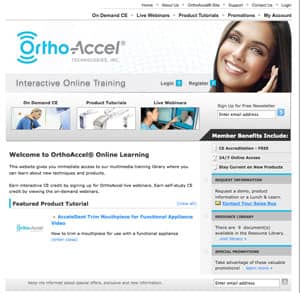 OrthoAccel® Technologies Inc, Houston, has launched OrthoAccelLearning.com, an interactive learning portal dedicated to offering orthodontists the latest instruction and advancements in accelerated orthodontic treatment. The continuing education website gives orthodontists immediate access to a multimedia library with resources on clinical techniques and OrthoAccel products.
"As OrthoAccel strives to advance accelerated orthodontics, we recognize that an integral component is providing continuing education opportunities for orthodontists and their staff," said Mike K. Lowe, CEO of OrthoAccel. "Consumer demand in orthodontics has shifted toward patients expecting faster treatments. OrthoAccel Learning will help orthodontists meet the demand by staying abreast of accelerated orthodontic treatment techniques."
Lowe adds that OrthoAccel Learning will also frequently host accredited webinars for orthodontists seeking continuing education (CE) credits.