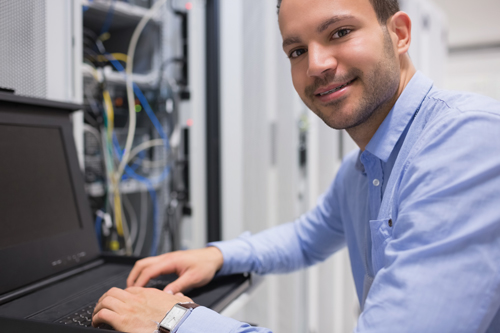 Let's start off with a story in three parts. The first part is about a man named Gene. Gene lives locally and has a cleaning business that services the residential and commercial needs of the community. Gene is also a "network guy" who can set up computers and computer networks. We know Gene. We trust Gene. After all, we let him and his crew into our homes and businesses. Gene says he is perfectly capable of helping us buy the necessary computer equipment to run the practice and is equally capable of building the network to run the system effectively. Why not use Gene?
The second part of the story involves Microsoft. As I'm sure you have heard, Microsoft no longer supports Windows XP (as of April 8, 2014). This translates into security issues, which means potential HIPAA violations. Perhaps more important is that newer programs will not run effectively (or at all) on XP. For those orthodontists considering going to cloud-based systems, XP will have no security updates. It's like being in a war zone without a security detail around you.
Even before Microsoft ended support for Windows XP, cloud systems struggled to work on it, and it will only get more turbulent now that there is no development for XP. On the other hand, Windows 7 was optimized to work with cloud technology. The bottom line is that for those of you who use XP in your offices, the time has come for a complete update and overhaul of your system. Again, why not use Gene?
The third part of the story involves the reason you can't use Gene. According to Paul Vigario, the founder and CEO of SurfCT, a leading Northeast-based dental IT provider, the modern orthodontic practice has many pieces within it—from practice management, imaging, and inventory considerations to paperless and lab needs, as well as HIPAA compliance and patient education. Thus, this type of facility needs highly integrated systems. This is not a job for a one-, two-, or three-man team.
According to Vigario, we effectively need an IT department with engineers, database specialists, integration specialists, and server specialists. And don't we all want our offices to look nice? That means we need the hardware components to be ergonomically designed and the facility to still have that "clean look" without all those wires around to trip on. So according to Vigario, orthodontic offices can benefit from IT providers, specifically those who are exclusively dental. The bottom line is that the more involved the system, the more integration is required, which means that Gene just doesn't have the knowledge or experience to handle the job.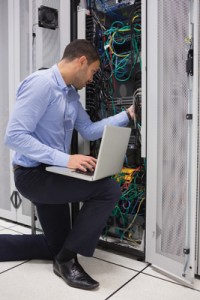 Finding the Right Provider
Where does an orthodontist find one of these dental IT providers? The first place is your orthodontic practice-management software company. They should have a list of IT providers that they have worked with that can handle the needs of hardware and software purchase, network setup, integration, and cloud configuration. According to Vigario, whose company covers an area stretching from Maryland to Maine, there are eight other groups similar to his with resources across the country, and together they cover the entire continental United States. They train together with the technology manufacturers (practice management, x-ray, etc) and have a comprehensive understanding of the systems.
What should you look for when deciding to work with a dental IT specialist? First, compatibility. You must be comfortable with the team managing this ever-so-important aspect of your practice. Remember, they are going to come into your office and wreak havoc for a period of time not only upgrading the computers, but wiring the facility and transferring important files from the old computers to the new. Then, for those of you who are going to the cloud, they will manage and work with your practice-management software company to make a smooth transition, with minimal problems. In addition, the more hands-on the orthodontist (read micro-manager), the more important it is for the dental IT provider and orthodontist to be able to work together. Maybe that means the IT professional has to manage the orthodontist as well as the computers!
Second, it is important to choose a dental IT company that has orthodontic experience. There may be dental IT providers whose price quotes come in less for the job, but experience dealing in the orthodontic realm is more important in the long term than some savings on the front end. I want a dental IT provider who not only has cloud experience, but has taken other orthodontic colleagues to the cloud with the same practice-management company.
So what's the bottom line when it comes to hardware and software updates? Could a private orthodontic practice benefit from a full IT department? Probably, yes! Is it feasible for a private orthodontic practice to have its own full-time IT department? No! So this is where a dental IT specialist comes into play. The orthodontic practice can have dedicated IT service and systems run by a full team of specialists with experience in the field. They can set up and manage the system, and can troubleshoot problems when they come up.
As for Gene? I told you we all like Gene, but unfortunately, all we can allow him to do is to clean our "Windows." OP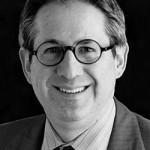 Howard A. Fine, DMD, MMSc, has served on the editorial advisory board of Orthodontic Products since its inception. He has private practices in both Mount Kisco and Katonah, NY, where he has practiced for 27 years. He served as assistant clinical professor of orthodontics at the Department of Orthodontics, Montefiore Medical Center, Bronx, NY. His areas of interest include digital imaging and computer technology. Fine has written numerous articles on these topics for this magazine.