Back in 2011, when Marie B. Farrar, DDS, MS, envisioned the design of her own practice—Smile Studio—she knew she wanted more than just an inviting reception area and a quirky color palette throughout the office. Instead, she wanted a business that reflected her values as a professional, and as an individual.
"Sustainability is very important to me and my family, and we work to be as 'green' as we can," Farrar explains. "At home, we recycle and compost; we also have a geothermal HVAC system and we drive a Prius."
When it came to the design of her own orthodontic practice, however, Farrar wanted to take the concept of sustainability a bit farther.
For 20 years, Farrar worked as an associate with current AAO president-elect DeWayne McCamish, DDS, MS, before she took a leap and opened her own practice.
"My husband is a prosthodontist, and we own the building where he practices. Adjacent to his office was an unfinished space that was just waiting for the right tenant."
In all, the undeveloped space on the south side of Chattanooga, Tenn, measured 1,039 square feet and consisted of exposed brick walls, drainage gravel, and exposed wood roof framing.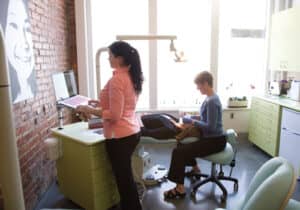 Over several months, Farrar would transform the area into 865 square feet of workable space and 174 square feet of unfinished storage, while acquiring LEED (Leadership in Energy and Environmental Design) Silver certification for Commercial Interiors by the United States Green Building Council.
From the outset, Farrar discussed sustainable features and materials with architects and interior designers at Hefferlin + Kronenberg, and with general contractors at Berry Construction, both Chattanooga institutions.
Because the space wasn't new construction, it qualified for a grant from the Lyndhurst Foundation and green|spaces of Chattanooga in the Commercial Interiors LEED category. Farrar received funds and quickly began working with the LEED AP at Hefferlin + Kronenberg to put the design in motion.
"Having a LEED AP to see the process through was invaluable," Farrar notes. "LEED certification requires so many hoops to jump through and coordinate, and my time and attention to give to it was limited."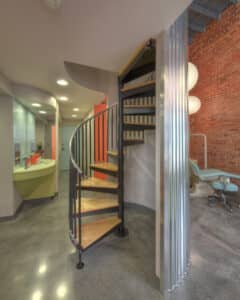 The unfinished space was transformed into a warm and inviting office that features modern highlights and artistic charm with cherry wood and polished concrete, as well as  translucent resin panels and stainless steel.
A mezzanine was worked into the plans to maximize the functionality of the total square footage. The above space provides more area for the main floor, which includes a private treatment room, three treatment stations, and a cleaning station, as well as a reception and waiting area.
The marvel of the space, however, is how sustainable material selections and construction methods were used to create the environmentally conscious design.
Many of the items that helped Smile Studio acquire LEED Silver are relatively unseen by the public, but have a big impact on helping the planet. Fixtures such as low-flow sinks and toilets and a bubbler for brushing teeth help to reduce water usage while translucent panels are used as partitions and doors in order to capitalize on the available natural light that shines through the floor-to-ceiling windows at the front of the office.
High recycled content was also a pivotal point for Farrar. "In selecting materials for our office construction and furnishings, we opted for materials that contain a high level of recycled content," she explains. "Twenty percent of all materials in our office are recycled."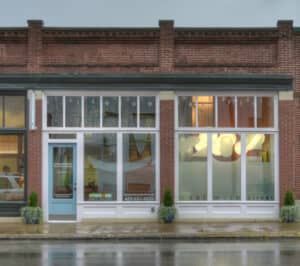 In terms of air quality, Smile Studio exceeds the requirement of national standards for fresh, outdoor air intake. According to Farrar, all paints, adhesives, sealants, flooring materials, and composite wood products used in the building have minimal to no VOCs (volatile organic compounds). "Even our furniture is low-emitting," she adds.
When referencing products and equipment for the practice setup, Farrar utilized the EcoDentistry Association as a primary reference. Once her office project was complete, she applied for certification from the associate and was awarded Gold level of GreenDOC dental office certification in 2013.
"My practice is congruent with my values, which gives me a great sense of peace about my work," Farrar notes. "My staff and my patients love our space. I once overheard one mom tell another in the reception room: 'This is our whole family's happy place,' and that makes me happy." OP
Lori Sichtermann is a freelance writer for Orthodontic Products. She can be reached at [email protected].