It's not every day that an orthodontist gets to purchase the exact office in which she received treatment as a teenager. However, for Mary Ellen Dobbs, DDS, MS, of Dobbs Orthodontics, Knoxville, Tenn, that is precisely what happened.
In November 2013, Dobbs purchased the practice from her childhood orthodontist and quickly realized that an office décor facelift was in order.
"While the office was remarkably clean and well-kept, it looked exactly the same as it did when I had braces," Dobbs explains. "Not only did I want to update the office, I also wanted it to reflect my personality rather than the personality of the previous doctor. It felt like I was practicing in someone else's space.
"One of the perks of being an owner is that you are able to go to work each day in a space that reflects who you are and the image you want for your office."
She vowed that the first thing she would do—once financially stable enough with the growing business—was to give it a new look. With help from her architect husband, who works for BarberMcMurry Architects, Knoxville, and the firm's interior design department, Dobbs set upon revamping the entire 2,500-square-foot office to better suit her personality and make the space more welcoming.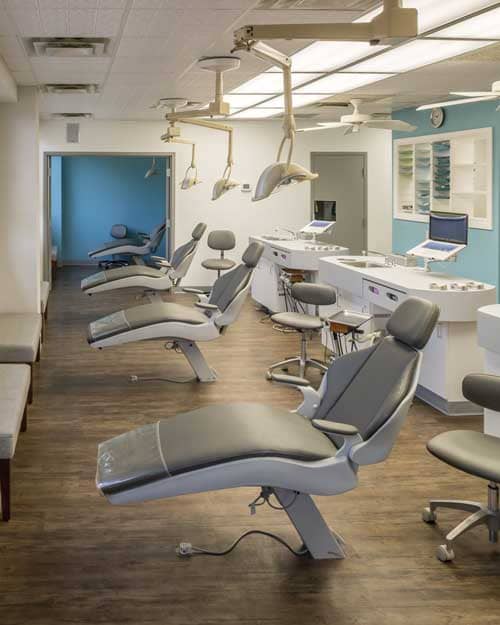 As she explains, the floors were changed from carpet to plank vinyl, all cabinetry was resurfaced, and each of the five dental chairs was reupholstered. "We were fortunate that the office already had a nice layout. That allowed us to keep the chairs in the same place," Dobbs adds.
Every wall in the office was stripped of wallpaper and either painted or reapplied with a new, more modern print that aligned with the new color scheme. Cool blues, cozy grays, and crisp whites replaced the dated neutral-beige and wood panel finish that remained from years ago.
The waiting room also received a facelift that featured more inviting and fashionable furnishings, such as designer wall art and sleek, more streamlined seating with fun, yet professional upholstery. What's more, the hygiene and restorative rooms were repurposed to fit the needs of the current practice.
"One of the biggest projects in the redesign was moving our patient room," Dobbs explains. "Our new space for this area has been moved to a different part of the office to make it more readily accessible. Its previous location took patients too far into the back of house. (They could see into our break room.) We felt this location didn't make for a great first impression."
Nearly every inch of the office was redesigned in some way, which could easily become an overwhelming task while handling 45 patients a day. Yet, Dobbs, with help from her architect and design team, made special planning arrangements so that the daily operations of the office, which includes three full-time assistants, one full-time office manager, one treatment coordinator, and a part-time front desk operator, could continue seamlessly.
"We were able to arrange for most of the crews to come in on the weekend and nights," she explains. "Thankfully, my staff would arrive early to work in the mornings to do any last minute clean-up before patients arrived."
Working with BarberMcMurry Architects and their interior design team, Dobbs notes that the process of coordinating the office makeover was relatively easy.
"Because I was working with my husband, he was able to predict my tastes and was able to narrow down the selection process for me," she recalls. "BarberMcMurry does a lot of healthcare work, so they were able to recommend durable materials. Other than style, one of my biggest concerns was durability. I wanted to ensure that the cabinetry and flooring would last for years to come."
Dobbs embarked on the renovation in January 2015. A little more than 8 months later, she had an office that was truly her own.
"They say that first impressions mean everything, and I felt that with the old office the first impression was not one that reflected the vision I had for the practice," Dobbs notes. "The space feels so much more open and fresh. Patients remark how much larger the office is. Now, it really is a reflection of my personality." OP
Lori Sichtermann is a freelance writer for Orthodontic Products. She can be reached at [email protected].